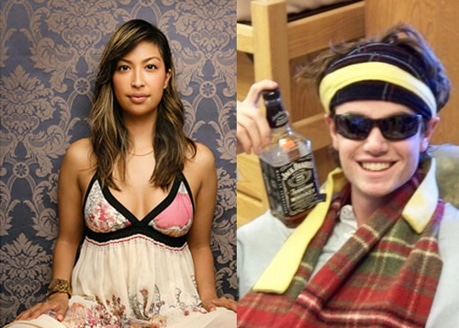 Hard partying composer's son wanted…

Sure to be the scandal death of the year involves that of 33 year old noted swimsuit designer Sylvie Cachay found dead in a bath tub at the posh Soho house hours after she was seen quarreling with her 24 year old boyfriend- Nicholas Brook, noted hard partyer and son of well to do composer Joseph Brooks.
Gawker: 33-year-old swimsuit designer Sylvie Cachay has been identified as the woman found dead in a bathtub at Manhattan's posh Soho House hotel. Just hours before her body was discovered she dumped her boyfriend, the privileged son of an Oscar-winning composer.

But just not any 33 year old swimsuit designer, to put it mildly…

Cachay, a Peruvian and U.S. citizen, started her fashion career as an intern for Marc Jacobs, according to DNAInfo. She was eventually discovered by Victoria's Secret and designed swimwear for them until starting her own luxury swimwear company, SYLVA. Beautiful and successful, she seems an unlikely match for 24-year-old Nicholas Brooks, whose main accomplishment appears to be graduating from his private school in the Bronx and producing an impressive gallery of intoxicated Facebook photos during a stint at the University of Colorado.
Never mind the rhetoric of the Gawker journalist who barely stops short of indicting Brooks for murder, for his purported ways(yet to be proven…) What makes Cachay's death more poignant is the manner in which she died and of course where she died- the play ground of the rich and well appointed, and if we are to believe anything the tabloids sell us is these lot have life figured out, and to be even caught posing for a paparazzo with the wrong three quarter angle is a crime onto with itself, never mind being found submerged under water, with marks on your neck, and scattered prescription pills on the floor.
Wallstreetjournal; NEW YORK — The son of an Academy Award-winning songwriter was being questioned by police Thursday after his girlfriend was found dead in an overflowing bathtub in his swank Manhattan hotel room, a law enforcement official said.
The partially clothed 33-year-old woman was found in a Soho House room after police received a 911 call from the hotel at about 3 a.m.
Water was discovered leaking from a ceiling and hotel staff went to the floor above to investigate. They found the woman, dressed in a sweater and underwear, submerged in the tub.
There were prescription drugs found at the scene, and the woman had some small marks on her neck, the official said.
Which has us wondering if you are going to die a gruesome death, why not at the designated hot spot about town, that way your death will have more merit. Not that being potentially murdered is a pinnacle of accomplishment…
But then there's the niggling presence of the misbegotten boyfriend