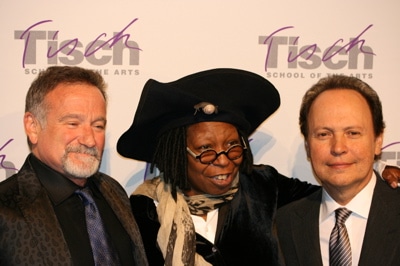 Last night, the Tisch school honored Billy Crystal with performances and a smorgasbord of comedy at Jazz Lincoln Center's Frederick P.Rose Hall. Robin Williams and Whoopie Goldberg, amongst many guests, including James Franco, counted themselves old friends of Billy Crystal and in turn gave him a roast of sorts to which Billy returned the favor.
The event was held in honor of Billy and also to raise funds to restore and modernize a Tisch building that was once known as Central Plaza. Although Billy went to Tisch and entered Central Plaza daily as a student, his history with the building began long before that. While it was known as Central Plaza, Billy's father used the space to rehearse with some of the music industries legends. These legends included Billie Holiday and The Bob Cantwell New Orleans Jazz Band who performed last night. Even though The Bob Cantwell Band members were all over 80, their performance was just as lively as the current Tisch students' performances.
Whoopie, who remarked that Billy Crystal was one of the greatest black men she knew, recounted tales of her and Crystal throughout their comedic life together. Robin Williams also a lifetime friend entertained the audience with his bawdy comedy and memories of Crystal. The two were actually the only two that weren't Faces of Tisch as Billy joked "Robin Williams graduated from Julliard and Whoopie graduated from the streets".
Hosted by Jessie L Martin and Marcia Gay Harden both famous for their roles on Law and Order, the event raised over $1 million dollars to be used for the Central Plaza renovation in addition to scholarships for future Tisch students. After Dean Mary Schmidt Campbell thanked guests who'd donated, Billy ended the night appropriately by remarking that "Tisch is the gift that keeps on asking."