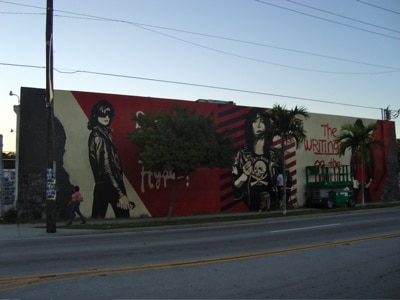 Deep in the heart of the design district, miles away from the allure of South Beach pool side margaritas, the guys and gals of DC shoes along with Primary Flight, AMP and Cafeina (297 Northwest 23rd Street, Miami) induced and inspired street artists and art connoisseurs alike. Primary Flight creatively enlisted over 250 artists from across the globe to paint the walls of Miami's urban landscape for the world's largest event of this kind. The art fair stretched across all of downtown Miami from Friday to Saturday and ended with the closing party Saturday night at the Cafeina bar, restaurant, and gallery space. During that time period all of Miami could walk across their urban jungle and watch as these world-class muralists transformed their concrete buildings into works of art.

Heading the event, The DC Life: Please Stand By Collection gifted attendees with special edition Admiral SE and Sector 7 SE footwear styles, which the designers created in reflection of today's current events and the evolution of technology and communication. For example, if the Internet died would people be as patient as our grandfather's generation when asked to "Please stand by…"
Downtown Miami took that opportunity to "stand by" as they watched the well-known street artists and designers at work. Members of the neighborhood brought out barbeques and gathered to appreciate the art that was invading their scenery at an outstanding pace, while the attendees of Art Basel flocked to the scene, discovering something new and powerful. The "Please Stand By: Primary Flight Closing Party" with Peanut Butter Wolf VJ Set, Them Jeans, DJ Induce & More closed the genius display of art with carnival games, pop corn, cotton candy, and ice cream allowing for everyone to celebrate the short transformation of Miami's urban neighborhoods into an artistic spectra.