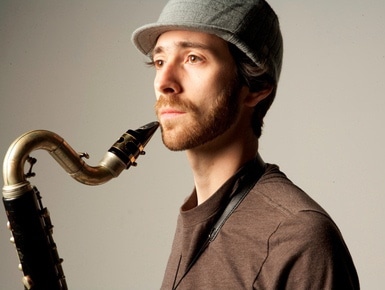 The divine musical talents of a bunch of dandy misfits.
Or what happens when Klezmer meets Mali folk meets Jazzjam meets Big Band joyfest with just two sets of vocal chords and four pairs of hands.
One recent night at Drom, the music grotto of the East Village, a strange combination of players came together. Under the canopy of Motema music, an eclectic mélange of jazz, world, blues, rock and country came to the stage and shared their sounds.
Our sensibility was especially tickles by a most unusual quatuor led by Oran Etkin. They do keep you guessing, looking for virtuoso midgets hiding under stage, inside the bass or under someone's sweater. How can so much sound come out of so few little tools? This is what they got: a trumpet or clarinet, depending on what Israeli Oran chooses to bring to his lips, a Mali balafon – the ancestor of the xylophone, wood planks tied together with pieces of string, gourd-fruits hanging underneath as resonators – a bass (held by versatile grooveman Marcos Varela) and a most enigmatic ovoid contraption responding to the name of calabash. Yes, it can be eaten, or aged, dried and used as a gourd, or cut in half and turned into this space-craft looking thing that produces both bassy-drum sounds when pounded with a fist or clippy, trebble-y sounds when clicked on with fingernails. (either that or there is indeed a castanets-wielding micro-midget hidden underneath.)
Dandy, street-y, African folksy, they swing with a demure flair under the floodlights and you feel like you're in a 60's French film of the Nouvelle Vague, one where a scantily clad Jean-Paul Belmondo tousles Brigitte Bardot's hair as they run laughing down the Champs Elysees with half a billion Ancient French francs in stolen diamonds weighing their pockets down. They are young, they are handsome and they're free and deep down you know that the next scene will find them drinking champagne on a small boat off the Seine, shamelessly floating away from the capital and that soon they'll make love with sunglasses on. Half of music's soul-feeding power is the ability of the score to change the picture – and have the result seeping into our lives.
Later Abdoulaye Diabate takes the mike and we are transported into the savannah,  where some bloody sunset melts over a lion's mane, while the bodies of men and women exult around a bonfire of joy. It goes on. And then you find yourself again, drink in hand, looking for peanuts, looking for a way to turn these inspirations into pieces of your own life, into a thrill that you could experience with the rest of your bones.
http://motema.com/artist/oran-etkin