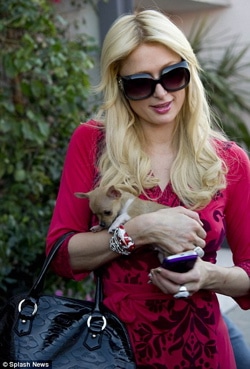 Does your pooch have its own special carry handbag too?
It's time to go shopping with Parasite, except Parasite has a new friend who is now helping her choose all the wonderful knick knacks that go in her trunk case.

DailyMirror UK CO Paris Hilton took her new puppy shopping again yesterday.
The tiny dog perched excitedly in Paris' arms as she visited Samy's Camera store in Los Angeles.
The 29 year-old blonde heiress cuddled the cute new pooch before stowing it safely in its own trendy handbag carrying case as she headed into the shop.
At this stage your heart should be bleeding with joy with the knowledge that Parasite now has a new best friend that will steer her on the straight and narrow and to the preferred couture stores that even young gilded pooches are predispossed to…

Known for her love of animals, Paris matched her outfit to the dog's blue carrier, wearing a turquoise T-shirt and carrying her own handbag of the same colour.
Her leggings also showed her love of creatures, with a snake pattern down one leg.

The socialite has previously admitted to owning 17 dogs, which makes the new puppy lucky number 18.
One day when Parasite is accepting her acadamy award for well behaved socialite she will look solemnly into the cameras and declare that her new pooch toilet trained her to it…
Want you weep with joy for Parasite too?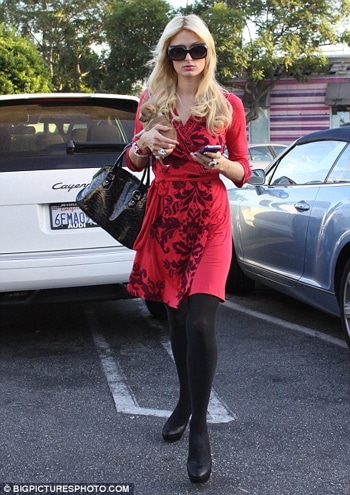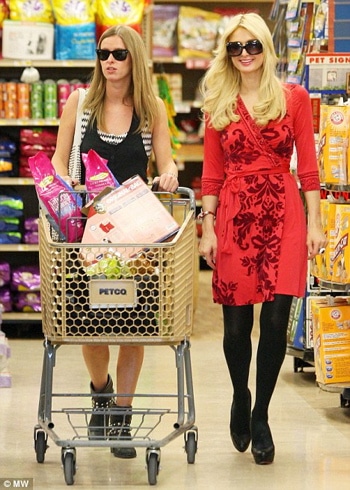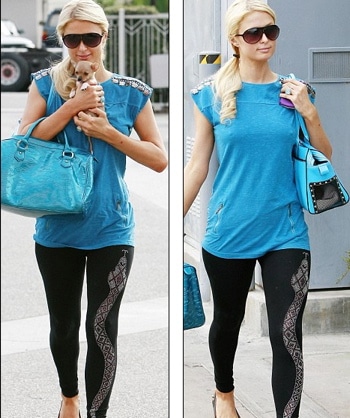 Paris Hilton Smuggles Cocaine Stash 'Up her Snatch'
The Weekend in Celebrity Profiling: Paris and The Jersey Set Under Attack
Parasite Hilton now suspects she was set up.
Parasite Hilton is being sued for $35 million dollars.
What's missing in this picture of Paris Hilton?