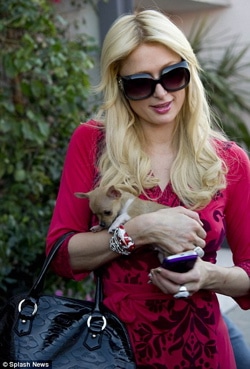 Does your pooch have its own special carry handbag too?
It's time to go shopping with Parasite, except Parasite has a new friend who is now helping her choose all the wonderful knick knacks that go in her trunk case.

DailyMirror UK CO Paris Hilton took her new puppy shopping again yesterday.
The tiny dog perched excitedly in Paris' arms as she visited Samy's Camera store in Los Angeles.
The 29 year-old blonde heiress cuddled the cute new pooch before stowing it safely in its own trendy handbag carrying case as she headed into the shop.
At this stage your heart should be bleeding with joy with the knowledge that Parasite now has a new best friend that will steer her on the straight and narrow and to the preferred couture stores that even young gilded pooches are predispossed to…