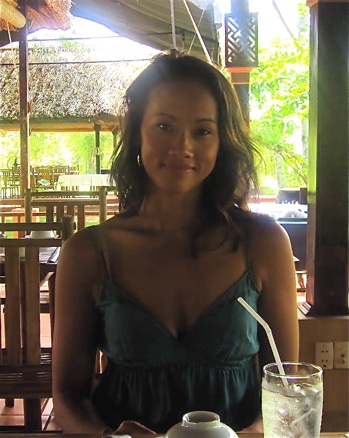 Want to be tantalized, nourished and feeling yummy? Well Mary Nguyen has read your mind and come up with her newest savory concoction that will have all you jetsetters savoring for more. Called Saigoniste, this tangy and tre delicious sauce inspired by her Vietnamese roots will we're willing to bet will have you dreaming about this stuff.
Made with natural ingredients, which means real peanuts, no additives or preservatives, your new love affair comes in 3 flavors- original, spicy and vegan. According to Mary – It's a peanut sauce, but not like any other. It's very full bodied, rich, creamy and amazing! And she's right. The damn thing is still dripping down my chin…
Invented by Mary herself, over 12 years ago, she's been perfecting it ever since, when she finally decided after her dinner guests would always refuse to leave the dinner table to finally bottle it and sell it to you. In fact it's already done so well, the kids according to Mary are slathering it in their ice cream as far away as Portland, Oregon. Yes ice cream! Personally I'm going to stick to my dim sums, but Mary assures me that it tastes wonderful on pasta, veggies and makes a great dip.
The good news is that for those of you heading to Art Basel, expect to find Mary's concoction making the rounds at Red Dot Art Fair– where it was chosen to be one of the sister fair of Art Basel's main food sponsors. Of course the good news only gets better when Mary is set to open a new restaurant in 2011, where you will be able to gorge yourself with her tre delicious cooking.
Isn't it time you started dreaming about Mary, or rather her new sauce- Saigoniste?
For those who can't wait to get down to the Red Dot Art Fair or Mary's impending restaurant opening, you  can get the good stuff here. Just be kind to send me a batch too!