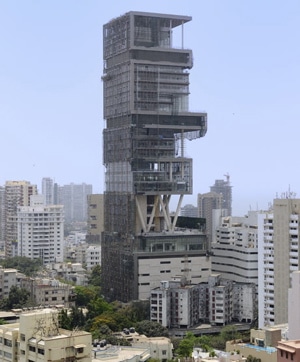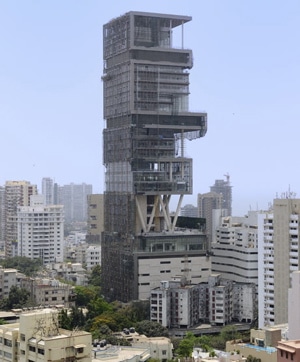 When you have money to burn don't hesitate…
Nothing smells and looks like irony than one of the wealthiest individuals in the world moving into one of the most impoverished districts of the world.
UK Telegraph: Ambani, his wife and three children have moved into the building which is named Antilia, after a mythical Island. It contains a health club with a gym and dance studio, at least one studio, a ballroom, guestrooms and a range of lounges and a 50 seater cinema.
There is even an elevated garden with ceiling space to accommodate small trees.

Where is this all going on? Mumbai, one of the most intensely sprawling world ghettos known to civilization. Of course that shouldn't deter you if you too happen to be a multi billionaire looking for a new home to move into, after all poverty misery loves company. Especially company that can afford to extend its own very amenities all within the press of an elevator button.
The roof has three helicopter pads and there is also underground parking for 160 cars, which will come in handy for guests at Ambani's forthcoming housewarming party.

From the top floors of the 173m high property are spectacular views of Mumbai and of the Arabian Sea.

Which reminds us of those homes in NYC that have paranomic views of cascading outer derelict  burrough neighborhoods or those lush homes in South America that extend bird's eyes views of the surrounding favelas.
Authorities to be frank aren't too thrilled.
Ambani does not appear to be influenced by calls by the Indian prime minister, Manmohan Singh, for business leaders to be "role models of moderation".
But there is a silver lining for all those on the outside looking in.
To keep it running smoothly requires 600 staff.
One day when you too make your own billion you will look out your sprawling balcony and relish that where this is a will there is a way.