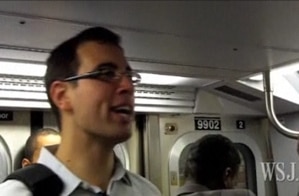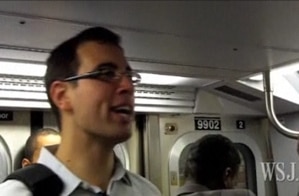 A crazy guy who actually has a job and is not panhandling for money…

Have you met Solomon Lederer yet? No? Then it's only a matter of time or just you switching to the F or B train in the mornings where the visage of Solomon can often be seen summoning the attention of fellow subway travelers. The catch is Solomon doesn't want your money or food, he has a nice job as a software developer thank you very much, he just wants your friendship, and he wants it desperately…

Wall St Journal: His speech to a crowded B-train car could almost be mistaken for the interruptions already familiar to transit riders. "I just want to say something for like 30 seconds," he begins, in the style of panhandlers, proselytizers and the sellers of dubiously charitable candy bars. But Lederer's attire — ubiquitous corporate casual, with a flyer-laden satchel he refers to as his "purse" — signals that the 29-year-old Morgan Stanley software developer might be after something different.

"I have this idea," Lederer continues, "that we can do some kind of exchange or networking on the subway so that we can get more of what we want and possibly give more of what we can give." He then hands out the flyers to make his offer plain: Hi! I have an idea to make our commute more interesting and productive, but need some feedback and help with the details.
Which begs the question, how does Solomon intend to make your commute more interesting and productive? And frankly since when did commutes have to be interesting or productive? Shouldn't we be allowed a moment to drown ourselves in our dreary sorrows as we travel with other fellow human beings to seemingly important engagements?
This unusual approach is part of Lederer's effort to take the ethos of social networking offline — to "friend" his fellow subway riders. It's a challenge to the sullen isolation of the commute, giving everyone the chance to join his impromptu circle of altruistic exchange.
"I have this sense that on the subway, there's more we can do to interact with people," he explains.
Lederer's experiment started last month, when he invited passengers on the F line to contact him with advice and ideas. The flyers, which include his email address, landed Lederer lunch with the chief communications officer of a holding company, a date and a solicitation to clean a woman's soiled guinea pig cages.
Altruistic or not, dates and corporate opportunities aside, isn't Solomon despite his good intentions still impeding on our personal space and shouldn't he be reprimanded for crossing social decorum? Or to put less tacitly, shouldn't we be holding Solomon to a higher degree because he is supposedly not crazy or a homeless bum that we so often excuse and callously overlook? After all, isn't that why we are introduced to people in social settings which do not impinge on others, or perhaps such things ought not to matter anymore?
And while he may never establish the subway social network of his dreams, the odd spectacle of his public proposition appears to affect even hard-bitten commuters. "You didn't see it," a passenger named Ben wrote to Lederer in an email, "but the real impact of your speech came after you left." The email continued:
Strangers in the train made eye contact, smiled in bewildered approval, nodded and shrugged happily. The pretty stranger next to me leaned over and said, "I don't know if it makes sense, but it's interesting."
But in case you do want more of Solomon in your life, this is his blog. Personally I'd rather just give Solomon a crumpled dollar note and a look that says – 'I prefer to be left alone and miserable thank you very much…'

Source: Gawker