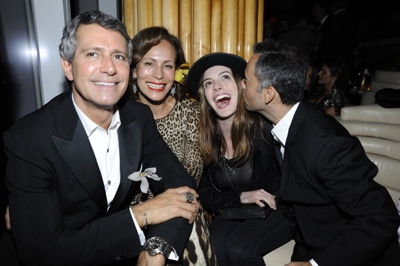 From the very moment we arrived at the after party for 8th Annual BrazilFoundation Gala, at the Standard Hotel it was pandemonium everywhere. Not horrid putrid pandemonium but delicious, svelte too surreal to believe, "…do you mind if I can have a sip of your caipirinha off the back of your supine shoulder blade mademoiselle, NO – go right ahead," kind of disarray that lads like me breathe for. In fact what all of us breathe for.
The evening's theme The New Brazil – according to press reports (yes, one is very much obliged to appreciate what exactly they are celebrating thank you very much…) we were there to pay homage to the underscoring Brazil's economic growth and heightened profile amongst the international community.
Frankly I think we were there to have the Brazilians show it in our faces how brilliant and self assured they are and that going forward they will be a force, a region to reckon with. To boot, the foundation's events raised a total of $2.5 million on top of the $50,000 received from the auction of Gisele's couture Calvin Klein gown. And if you must know, Gisele Bundchen made a hundred thousand cameras and dizzy photographers so frantically erratic that even I for a moment thought that the caipirinha that I was holding was a camera…oh dear.