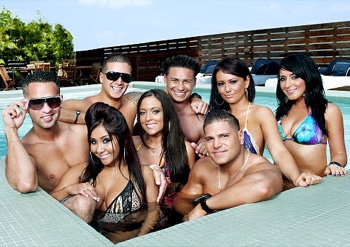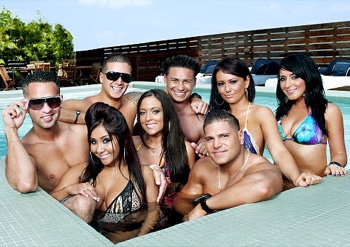 In all the ecstasy of astounding glee with which the media has attacked a coke-addled Paris Hilton along with so many stars from the Jersey Shore recently — all whom are now charged in an assault case (not to mention alleged sex-offender Remy Gonzalez) — one could well say the 'spectre' currently haunting the American media culture is celebrity profiling.
By that I mean was Paris celebrity-profiled because of her bad dye-job blondness and mega-chic cokehead media-whore status? And, furthermore, was the entire cast from Jersey Shore specifically targeted for the same kind of drunk-ass Saturday night violence that every guido and guidetteFacebook pictures of each Sunday, then brags about on Monday? obsessively posts
LA Times: Hilton was treated "like everyone else," Deputy Chief Jim Dixon told the  Las Vegas Review Journal, adding that the one difference was that the actress was not placed with other inmates at the county jail. "If you stick somebody in like her or somebody else who's famous, all of a sudden it's disruptive. We're under obligation to make sure that everybody is kept safe."
The question that Chief Dixon fails to ask, much less consider, is whether this 'disruption' caused by fame is limited only to the confines of a jail cell. "Could it not," any halfway-decent multimillion dollar superstar attorney worth his weight in human skin would wonder, "overflow into other areas of the law enforcement sector, perhaps even the arrest itself?"
It would, in any case, be absurd by its very nature to argue that any police officers in Las Vegas Nevada — a city specifically catering to comforting (when not busting) the rich and famous — are unfamiliar not only with the face of Hotel Heiress, but also with her persona.
After all, this is "Vegas, baby, Vegas!" A city of pre-paid wet-dreams where every media whore waltzes around with a diamond studded Louis purse stuffed full of tiny Mexican Chihuahuas and Peruvian blow. To prosecute one and not the others is nothing short of selective profiling which should be outright opposed by every possible media outlet. But, of course, that's where the charges, at least as presented, start to get iffy; where, that is, there may be more than some reasonable doubt. For, as we all know by now, it couldn't have been her purse to begin with.
But perhaps most perplexing, while a subject ripe for sarcasm, we should wonder if such cutthroat silliness is the sign of a defense mechanism. Oftentimes a marked difficulty to approach a subject seriously belies below it a grave seriousness.
We never fail to laugh when celebrities, profiled for drug use, find themselves arrested with coiffed hair and coy smiles, just like we always laughed when someone caught the most popular high school slut smoking cigarettes in the bathroom after skipping out on class without a hall pass.
Of course they're guilty, and of course they probably wanted to get caught, but that's the besides the point, because profiling — not just of celebrities — is real. And who's to say we should deprive poor Snooki and Paris, just because of their luck (or lack thereof) of all the same rights to be treated equally and without undue suspicion we demand for ourselves? It would certainly make it harder for them to get that much needed free publicity. Maybe the police departments should leave that to the tabloids…
Parasite Hilton now suspects she was set up.