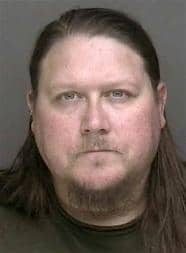 Maybe it's not a good idea to use minors in your morally depraved schemes…
Josh Eastman is having a terrible day today. Why? Because what he thought was a funny home made video prodding an 8 year old boy to swear ad finitum didn't go down so well with authorities. Now he's in a jail cell wondering whether he should have kept to his day job.
Associated Press:HARTFORD, Conn. — A Connecticut man arrested on allegations he coached his 8-year-old neighbor to swear and posted a video of it on YouTube says he's shocked the child's family turned him in to police.
That's interesting, because we're not shocked in the slightest. But the story get (unfortunately) better…
Thirty-four-year-old Bridgeport resident Josh Eastman said Thursday he didn't encourage the boy to spew profanity and recorded the clip because the boy developed a reputation in the neighborhood for swearing.
So according to Josh's wisdom the 8 year old boy should be in the jail cell instead, or at least in the next jail cell with him.
Police say Eastman was charged with impairing the morals of a child after the boy's mother alerted authorities of a clip titled "Swearing Kid." Eastman posted $2,500 bail and is due in court Sept. 8.
What Josh doesn't understand is it's okay if adults impair a child's morality all day long (just turn on your TV set) but it's another thing when you put a minor in the position of doing the offending. It should just be the recipient of said moral profanity. Something TV networks will get round to addressing one day we are sure.
Eastman says his relatives and the boy's were friendly and he would have taken the video down if they had asked.
And I would have told Josh not to even go there if he had my telephone number. But thankfully Josh you don't have my number.
A police spokesman says the video has been removed.
Of course it wouldn't surprise us if Josh came out with his own swear video. After all he has a lot to swear about now.