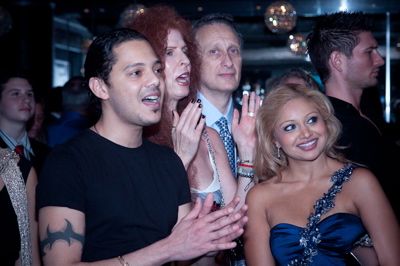 Ah the festivity! Last night a gamely lot came to pay homage to Society Choice's initiative at Covet lounge to raise awareness and some much needed funds for National Wildlife in lieu of the recent man made disaster courtesy of British Petroleum.
With a line up that included Anna Bergman, Giada Valentie, Dalal Bruchmann, Zach Maxwell, Christina Fontanelli, Cynthia Antigua,  Vincent Veloso and our personal favorites Chicago's very own dancing girls- 'Fishnet Mafia productions,' guests were treated to an enthralling cabaret production and dare we say some lovely repartee by hosts Alex Harris and Dr Shireen Fernandez, principals of Society's Choice.
Dare we say it I later found out shortly after I left William Michaels, the star of South Pacific dropped by and according to Alex they all had a winning 10 acts together…(indeed…)
Whilst performances were underway I took the privilege of fielding Ms Fernandez a variety of questions:


SCV: What was the initiative behind tonight's events?
SF: Well we thought in lieu of the disaster down south that we here in NYC had to find a way to help in bringing awareness and funds to the people who really needed it. When we first heard about it, we didn't like it that many people were not aware of what was going on. But then as it became apparent the extent of the disaster we felt compelled to act.

SCV: How did you actually go about that?
SF: We began reaching out to various charities and we were surprised to learn that a lot of them had contractual relationships with BP which precluded them from coming on board. Eventually we reached out to the National Wildlife association, who have been integral in dealing with the disaster and they were very happy to hear from us.