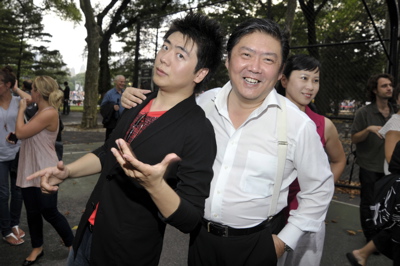 This past Tuesday we were fortunate to attend (never mind the sweltering humidity) Shanghai Symphony Orchestra and NY Philharmonic's smashing outdoor concert which had some 40 000 New Yorker's swooning to abandon.
Part of the World Expo, the concert, presented by Didi and Oscar Shafer bought out star pianist Lang Lang in conjunction with the Shanghai Symphony Orchestra, including star vocalists Ying Huang, Changy Ong Liao who mesmerized the audience with crowd classics (Le Fiagaro had the entire great lawn applauding for a full 3 minutes).
Prior to taking the stage, Long Yu, Shanghai Symphony Orchestra's musical director and principal conductor had this to say: "I am honored to be the music director of the legendary Shanghai Symphony Orchestra, which has become a worldwide cultural ambassador for Shanghai. Just in the current season we have toured in North America, Europe and Asia, and we are delighted to perform in the heart of New York City in a concert dedicated to this year's World Expo, hosted by our home city. The musicians and I are very excited to be a part of this unique event."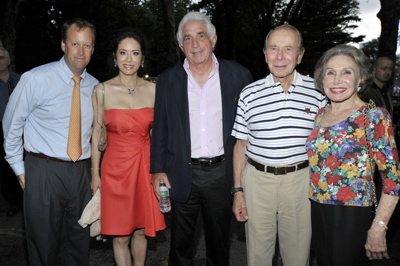 Who was also excited were the guests on hand at the VIP reception that took place prior to the groundbreaking performance earlier in the evening. Angela Chen, one of the principals representing the China Art Foundation who helped bring this concert together expressed how personally thrilled she was to see the event take place on the great lawn, here in NYC and that a lot of gratitude ought to be paid to Shanghai authorities for metting out the costs to bring both the Shanghai Symphony Orchestra and NY Philharmonic together that night. It should be explained that the China Arts Foundation (CAF) is a non-profit organization that supports art performances and cultural events that involve Sino-international relations and exchanges.
Other invited guests included social fixture Peter Davis (nice running shoes Peter!), designer Geoffrey Bradfield (who like this author took recourse under the one tiny fan to be found under the sweltering heat), Padma Lakshmi,artist Meredith Ostrom, Mr. and Mrs. Donald Ruben, Zang Toi, Hank Greenberg, Francine LeFrak, William A. Haseltine , J Sokol, T Forstmann and of course society photographer Patrick McMullan who was seen mopping just as much sweat as the rest of us.