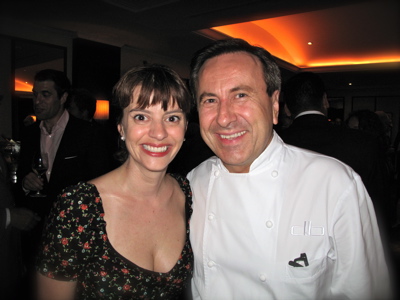 Summer Harvest Tasting Dinner: Celebrating the Bounty of our East Coast Purveyors at Daniel.
More Bon Vivant than Vagabond, I spent the evening at Daniel, one of the best restaurants I've never been to, until this past Wednesday night. Surely you know that Chef Daniel Boulud is the 2010 recipient of the James Beard Award for Outstanding Restaurant. Well, with the respect and gratitude that only an exceptional 'cuisinier' can display for his ingredients and the hands that nurse them to health, Daniel was celebrating last night the bounty of his local purveyors. (A notion more than ever on the forefront of regional politics and nationwide health campaigns: "buy local" or end up "Food'inc.ked" the super sized way). Hailing from Maine, Pennsylvania, and New York, you can imagine these goodies are the very best money can buy. The joyful event was filled with a festive bunch of seasoned palates looking for the night's freshest crustaceans, veggies and fruits. The fish was sworded, the crab peekytoed, and the tomatoes multi-colored.
The reception kicked off with a breezy Summer cocktail featuring berries from the Cook Fall's farm, aptly-named 'Berried Treasure'. Armed with those liquid delights, we proceeded to have a tour of the Master's kitchen. Following Yannika, our guide for the night, we were ushered in what felt like backstage at a well-run fashion show. In Chanel-like black and white, some 20 graceful bodies were dancing about in a flurry of colors and textures, chopping, braising and garnishing to our delight. The spectacle alone made the prospect of delectable cuisine even more divine.