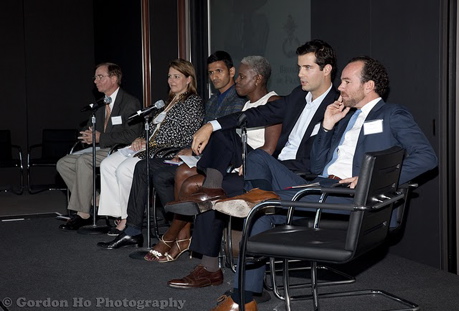 The French Trade Commission, UBIFRANCE and Veranda magazine hosted the Maison France panel discussion Monday night atop Hearst Tower. Exquisite views and splendid bar service graced the corridors where French language, wine and natives admired Central Park, skyscrapers, and light. Audience members included 30 newly developed US-based French home furnishing and decorative art ateliers eager to partner with the U.S and Atelier de la France. Julien Djadane Houles U.S.A, Micheline Taillardat (furniture) and Catherine Tisserant (bronze and lighting) were among the many featured June 22nd-24th for traders and to the public at Felissimo Design House (10 west 56th street).
What better way to distribute and share information than through a moderated discussion panel comprised of six leading spokespersons who've established businesses in the US with great success? Carolyn Englefield, Veranda magazine's Editor at Large curated the symposium. It was comprised of Robert Couturier, President of Robert Couturier & Associates– Claudette Blackwood, Director of Bernardaud North America- Patrick Frey, National Sales Director of Patrick Frey Inc.- Heather Ryan, Managing Director of Grange Furniture, Inc.- Antoine Roset, Executive Vice President of Ligne Roset– and Jean Wiart, President of Les Metalliers Champenois.
Having answered three questions in great depth yet ever so succinctly, the moderated discussion well satisfied aspiring entrepreneurs' curiosities. Addressing the panelists on three topics — marketing strategy, economic recession, and finally French luxury brands' potential for increasing visibility– Englefield drew out quite valuable information, in the most diplomatic fashion.

First, Couturier explains that his company survived the recession, because most of his clients had more than one house. His strategy is to create unique, affordable products too kept customers' attentions and the premium high.

Secondly, Blackwood of Bernadaud emphasized the importance of catering uniquely to US regional strata—of understanding markets outside of France, which is not so easily translatable. "It's all about emphasizing the time it takes to enjoy a project, of fulfilling the expectations of French lovers."