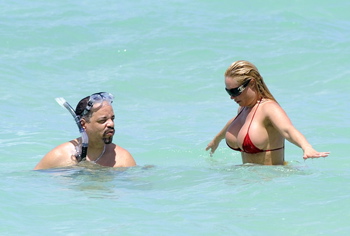 Is your summer as interesting as Ice T's?
Once again we are in the full swing of summer throw downs and here to charm us this Tuesday is Coco and Ice T.
INF Daily: Ice-T, 52, and wife Nicole "Coco" Austin, 31, hit the beach in Miami yesterday to scandalize us all with their flesh. And to snorkel.

Snorkel? The only thing these two appear to be snorkeling for are the little munchkins parading intermittently between their crotches, or in Coco's case – her butt crack- not that Ice T is too bothered by such conundrum.

While most women would be hitting the gym if they had an ass that looked like two globes hugging, Coco embraces her form. Exploits her form. Some might say embarrasses her form. Whatever your opinion, we can't look away.
Who's also not looking away is Ice T, he's planning on going deep sea scuba diving for the rest of the summer from what we can judge.
Don't you wish you could snorkel like Ice T? So much for little red panties that never have time to drip dry…