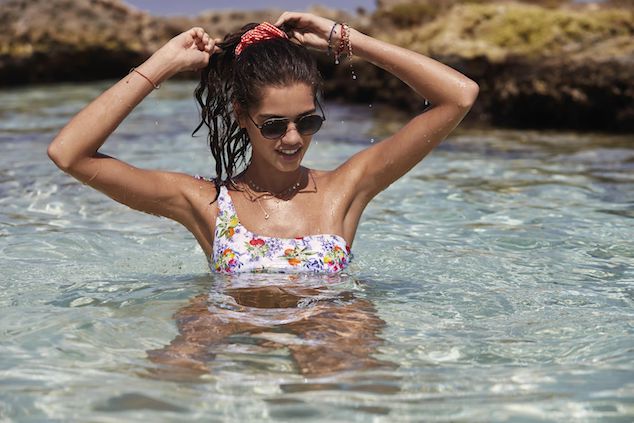 Chic strapless fashion design that allows for basking in the sun and a great tan.
Blue sea, white sands and golden sunshine: summer's here and it's time to think about your new swimsuit. Every woman needs a few bikinis and swimsuits for the beach, by the pool, or simply relaxing in the garden, but which to choose? Triangle bikini, tankini, or one-piece: finding your perfect beach look is essential.
One of our customer favourites is the bandeau bikini, a timeless style that avoids the annoying problem of tan lines. A bandeau top is also easy to wear under a beach dress or tunic with no visible straps to spoil the look. With on-trend designs and an array of the latest colours and prints, there's a Banana Moon bandeau bikini to suit every taste. 
What is a bandeau bikini?
If you're searching for a chic strapless swimsuit, a women's bikini in a bandeau style is a great option. A bandeau bikini consists of a strip or strips of fabric that cover the bust and may include underwiring, pads or soft cups for a flattering silhouette.
Some styles also feature optional shoulder straps or ties for added confidence when swimming. These ties are designed to be removed easily so you can slip them off easily after your dip. The actual style of the bandeau bikini top may vary quite a lot: look out for twist bandeau tops, laced bikini tops and ruched bandeau bralettes. A bandeau top goes well with any style of bikini bottoms, whether shorts, Brazilian or high waist bikini briefs. 
How to choose a bandeau bikini
If you love basking in the sun to acquire a tan, you're sure to be a fan of the bandeau bikini. Thanks to the strapless design, you can capture that sun-kissed look without any irritating strap lines that might spoil the look of your outfit. If you opt for a style with removable straps, you have the best of both worlds: you can attach them before a dip so you can swim without any worries, then quickly slip them off again when you return to sunbathing.
Women of every body shape and size can feel relaxed and confident in the sun with a bandeau bikini. A ruched bandeau bikini is a good choice for women and teens with smaller busts as it gives the illusion of a curvier figure, but a simple band of fabric does not offer much support. This is where clever design comes in: bandeau tops with cups, underwires and pads are a great option for women with larger busts as they offer more stability and support, so you feel comfortable whatever you're doing.
According to Banana Moon, feeling confident and comfortable in your swimsuit is the key to fun-filled summer. The e-shop offers women a far wider range of choices than in high street stores. The Banana Moon swimwear selection is available in a full range of women's and teens' sizes and includes designs to suit all body shapes: mix and match the pieces to create your perfect beach look.