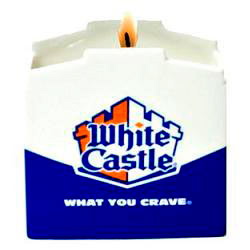 If you ever quietly ruminated to yourself whilst devouring a small lawn bag of White Castle in your snuggie, "what could possibly make me fatter and stupider." No need to give that dilemma much thought, as the geniuses over at White Castle have already come up with a solution. That solution just so happens to be one of the most appalling, objectionable solutions since god continued to allow Ryan Seacrest to live.
In recognition of National Cheeseburger Month, White Castle is offering a $10 dollar scented candle that takes the  form of the mini-burger-chain's paper wrappers, which evidently emits the ever-so subtle and voluptuous "steamed cow ears basking in a tepid swamp of grease" scent.
This just so happens to be one of those puzzling quagmires where I find myself debating
which is worse, that is, a white-castle scented candle or that we have such a thing as National Cheeseburger Month.
So if you happen to be one of those people that simply cannot assuage the irresistible urge to have human beings barfing uncontrollably and wild cats loitering outside your domicile in great numbers, the white castle scented candle was made just for you.
I've learned that all sales generated from the scented candle will go directly to autism research.
Although a noble cause, it would probably benefit mankind so much more if the money went to a psychological study on why CEOs of Fast Food chains think a hamburger scented candle is a good idea.
If you're unwilling or incapable of understanding the problem of receiving what White Castle adorably calls food from a window, then you probably have just filled your one bedroom basement apartment home with White Castle scented candles.