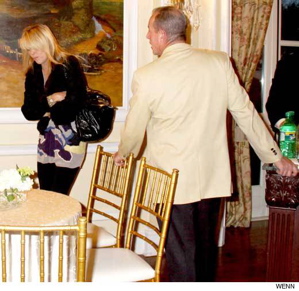 America's favorite dysfunctional family want to remind you they need your votes.
Watching the Lohan family exist has probably been one of the most eerie dysfunctional experiences the average American has been subjected to these last few years. Where school teachers once forced young adolescents to read J D Salingers's 'Catcher in the Rye,' or 'Who's afraid of Virginia Wolf,' to get a pithy sense of all that's wrong and phony in America, teachers are now sending their kids home and asking them to come back with clippings the next day with anything that the Lohan family can get themselves into. The Lohan family unlike most literary tragi/dramas has the added value that it is still a tragi/drama in progress and watching these people make sense of their lives is like watching ourselves wake up with hangovers, except the Lohan family always has a better hangover than you. That said here's another clipping, courtesy of TMZ of Michael screaming at Dina (never mind she has a protection order against him). Why don't we try to guess what Michael was trying to say to Dina…
a/ 'Dina, please – I need the number to  Lindsay's crack dealer!'

b/ 'Please Dina, there's this little village in Greenland that's never heard of us.'

c/ 'All I'm asking is you come down with me to the police precinct- Lindsay and the paparazzi are waiting for us.'

d/ 'Look, I know I'm a little crazy, but if we keep pushing the Federal Reserve is bound to use our images on the new $20 bill.'

e/ 'Who's the strange guy in Lindsay's room sewing all of Lindsay's empty coke bags together?'
Michael Lohan Just Got Creepier.
Michael Lohan Disappoints the World By Failing To Act On His Suicide Promise