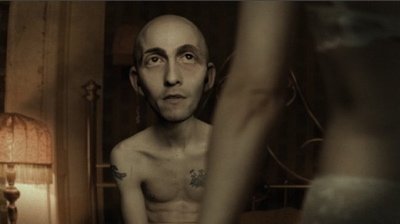 Another week, another set of 2010 Tribeca Festival picks. Here are five more films that can't be missed if you want to talk the talk of the Festival wrap-
sex&drugs&rock&roll: Andy Serkis growls, purrs, and jolts his way through this biopic on the life of rocker Ian Dury. Fans of fantasy films will note that Serkis seems oddly familiar, for good reason- he is best known for having portrayed Gollum in the Lord of the Rings movies. Though the filmmakers occasionally lean too heavily on music movie clichés (shots of a spinning LP during the "Finally Making It Big" montage), the focus on the relationship between Dury and his son is refreshing. It's easy to dismiss the poisonous effect that the selfishness that committment to fame and success requires, but director Mat Whitecross doesn't shy away from the abyss.
Metropia: Think Being John Malkovich meets 1984, done in some of the most striking animation this side of that German currency ad. Vincent Gallo, a real-life crazy person, voices Roger, a quietly disaffected drone in a near-future European dystopia.  When Roger spots the beautiful model from his shampoo bottle (Juliette Lewis) on the transcontinental subway system, he quickly finds himself stumbling through a world where evil corporations collaborate with heads of state to control the public through inane television and, oh yeah, actual mind control.
Metropia takes you for a ride in more ways than one; you never know who you can trust in its underground labyrinth. But even if the plot were dull (which it isn't), the film's memorable animation, foreboding backdrops, and unsettling score would more than justify the price of admission. Director Tarik Saleh has created a world where our current touchstones have been stretched and exaggerated. Today's corporations just lobby our politicians and occasionally fight our wars, Metropia's have essentially replaced the governement and are implanting our minds with microchips. We're still discussing the "debate" over climate change, this world no longer has seasons. Even the faces of the movie's inhabitants look almost real, but have been stretched and distorted beyond the uncanny valley. See this movie, you'll never wash your hair the same way again.