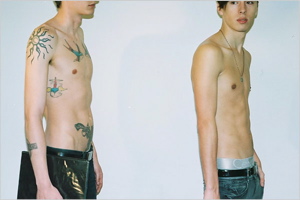 Looking like a gay man's version of beauty is making us swoon.
Yummy, our friend (frenemy?)Richard Lawson over at Gawker has just pronounced that the world can only work the courage to force an erection for all you guys on the condition you fit the new preferred look (and vision) that is currently making the rounds;
As the ideal male figure slims down to a wriggling indie nothing, so too must boy fashion mannequins. It's a new trend! A 27-inch-waist mannequin will soon hit our shores, sending all but the twinkiest into a shame spiral.
So let's just ponder for a moment where this hot new de rigeur arbiter of manly boy aesthetics has come about from.
Could it be one or all of the following:
a/ Shameless devotion to 19- 23 year old celebrities who still have to wait another 15 years before they get round to the double waist.
b/Shameless devotion to gay designers who continue to espouse their sexual fantasy (yes – gulp- shock, horror and fear kids) onto the runway. Heidi Slimane, John Galliano, Jean Paul Gaultier and Marc Jacobs will only rub themselves against you if you can fit into their size 24 pantalones..
c/Shameless devotion to aging female magazine editors lusting for the elusive and now by proxy you.
d/The sudden realization that in your mind your husband/boyfriend can look like Justin Bieber and his skateboarder friends.
e/ The sudden realization that women can play at the same game men like to get them to play at too.