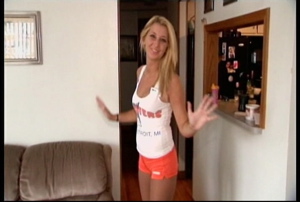 And you all thought Hooters didn't discriminate, shame on you for believing such lies. Get this, a 20-year-old female named Cassie Smith was put on probation from her job, working at Hooters of course, because she gained a few pounds. What's insane about this is she's 5'8" and only weighs 138lbs…excuse me, 132lbs.
Smith told WJBK-TV that she received an interesting evaluation at the Roseville branch, that informed her that she is, well fat, if you want to put it bluntly. The young victim felt heartbroken and horrified. You know, because if Hooters doesn't want her just who does?
Hooters of America Inc of course denies these juvenile allegations, but we weren't born last night; all you have to do is walk into any restaurant with a scale in hand, and I can promise you none of those silicone filled, fake blonde women will weigh more than 120lbs.
Hooters took their lies too far and even said that they don't in fact even have a weight requirement and "no employee in Michigan has been counseled about their weight."
So do you mean to tell me that Hooters carries size 1x shorts? Didn't think so. If I were Cassie I would try and sue that raggedy restaurant for every penny and hot wing they've ever made.