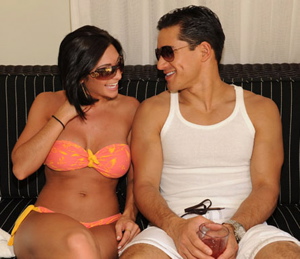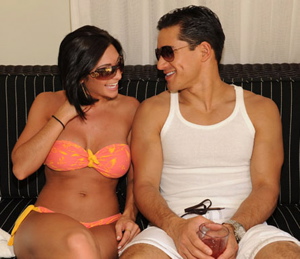 Building perfection one liposuction and breast plant at a time.
Mario Lopez at one time of his life was just AC Slater on the hit show 'Saved by the Bell,' but today he's Mr Perfect and he wont let you be seen around him unless you agree to polish your teeth, dimples, buff your pecs and submit to some exploratory plastic surgery. What do you get out of it? A life long commitment of ginger cookies and Mario's doting dimples. Curious? Of course you are, let's turn to the NY Gutter (Post) for more information:
Mario Lopez is so body-obsessed, he persuaded his beautiful girlfriend, Courtney Mazza, to undergo rigorous personal training and encouraged surgery to get her into even better shape.

Sources say friends of Mazza are concerned that the image-conscious "Extra" host started nudging her to perfect her already amazing looks once they got together. They met in 2008 while appearing together in the Broadway revival of "A Chorus Line" and started dating the next year when Mazza moved to Burbank, Calif. She's expecting their baby in September.

What the NY Gutter is not telling you is that Mario has already hunted a child psychologist and child fitness trainer that will make sure his new born will have abs and pecs looking like him before he turns 6 weeks old. Extreme? Hardly, this is the way Mario understands his world, and as long as you are to have any part of it you need to approach perfection like Mario.
Continues the Gutter:
"He encouraged her to work out with a trainer every day. She underwent a boob job and liposuction last spring. Once her body was perfect, he arranged for them to be photographed on a beach."

Lopez has previously described his obsession with fitness and once told TV Guide, "I never feel awake unless I'm sweating." He told the magazine he exercises for at least an hour a day, runs, bikes, swims, plays basketball and throws punches three times a week at a boxing gym.

Which pretty much assures us that Mario will not let his newborn child be photographed unless it can benchmark 98 pounds with one hand. Par for the course. Also understood is that the newborn child will be forced onto a treadmill every time it has the tenacity to wake up and cry. After all, if daddy sweats, so does Mario Jr.
Oh well, don't you secretly wish Mario just remained as Ac Slater?