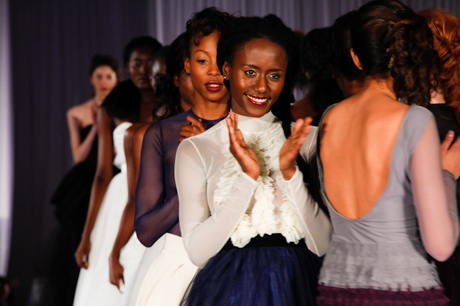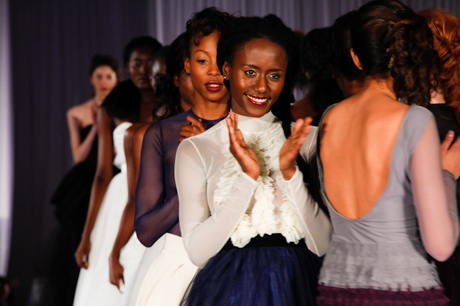 Note to Rick Davy, organizer and principal behind one of the most delicious disasters a packed room had ever come across last night at Steinway Studios, Brooklyn on behalf of his presentation of (BKFW) Brooklyn Fashion Weekend's fashion collection- 'I am Brooklyn,' – you were dreadful, but deliciously dreadful.
As fond as the world is of you Rick Davy, the over riding consensus amongst guests who were leaving by the droves, hissing paparazzi photographers (something I have never seen in my life), confused models and  the front row attendee is that going forward you need to give us mercy and spare us from future debacles. In short a lesson in elocution in the basic staples as to what counts for a compelling production, models who actually know how to walk the plank and designers who actually know how to make clothes (although to be fair there were some gems) and guest hosts, yes you Alex McCord and Simon Van Kempen should learn to arrive on time. After all being a host requires you to turn up at the beginning at the show (6pm) not at the very end (10.45pm) and look at your shoes half embarrassed (with good reason mind you…). Who also didn't show up was Abner Louima, whom the proceeds to tonight's efforts were being partly donated to his Haitian reconstructive fund efforts. At least Derek Warburton,of Derek loves Shopping, shopping guru stylist turned up on time to make sure every photographer got as many chances as possible to take his picture.
With designs that resembled efforts from eight grade home economic classes, I will spare spelling out which these designers they were, but to say, tassels that drag on the ground, stitching that was coming undone, with models walking with unshaven legs, this is a definitive no no and as avante garde as you may all think it is- it is simply not! Then of course there were the delicious plus fat size models (I know I am being cruel and not very politically correct…blah!) whose caboose swung from one end of the north pole to the south pole the way the back end of an elephant's tail sweeps the Sahara desert. Ironically this was the highlight of the show, because we at least all got to laugh with the designer BGU (Big Girls Unite) and her models in her brilliant tongue and cheek. It was equally offensive and equally delightful, a major feat in fashion.
It's just when the show attempted to become serious amid the four hundred thousand interrupting solo hip hop acts (please Rick this is not cabaret time but a fashion week and most guests don't want to spend 5 hours sitting in a chair just to watch a handful of designers amidst fist pumping half naked cherubs) that it all became a disaster. But when I say disaster, I mean a brilliant delicious disaster. The select damages are as follows:
You can also go to Keith Lew's, our photographer's direct home page for more photos of this delicious disaster.