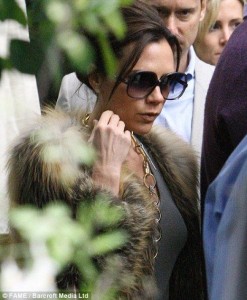 The fashion forward people who call Hollywood home.
Mmh, it looks like it's time for all those savvy Hollywood dames to come forward and forever cement themselves in the public consciousness. That said, this evening's best attempt at sartorial anarchy goes hands down to Victoria Beckham. A cursory examination of some of the following pictures should leave you glad that you long packed your bike chain, unlike Victoria…
Here is Victoria, courtesy of the UK's Daily Mail doing her best to let you know that she's more important than actual actors. The smirk we think is perfect. Congrats VB!
Wearing a thick faux fur jacket and her trademark shades, skinny jeans and ultra-high Louboutins, David Beckham's wife was spotted leaving a Pre-Oscar house party on Coldwater Canyon in Beverly Hills.