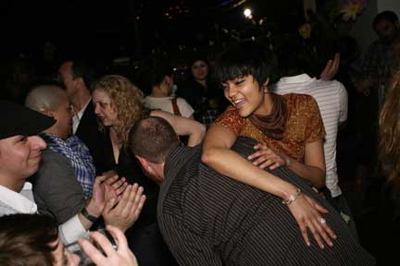 Carnaval is a lot of things: A sartorial spectacle, a tourist deluge, a cultural extravaganza. But if you ask most people what they think this epic event is all about, you're bound to get one answer pretty consistently:
It's a party.
The atmosphere was certainly festive at Absolut Carnaval on Monday at Union Square Ballroom. Multi-colored streamers stretched everywhere; the dimly-lit room pulsed with music and brimmed with pessoas de festa (party people). The crowd was varied: Cocktail dresses mingled with jeans and hoodies, old and young alike moved to the steady Brazilian beat with a smile on their face.
Traditional Brazilian dishes were being served up in one corner of the room, while impromptu dance circles were forming in another. And like most parties, everyone's favorite inhibition obliterator was in steady supply. In addition to a steady stream of imbibers at the bar, there were other, less traditional purveyors of potables: umbrella-topped pushcarts.