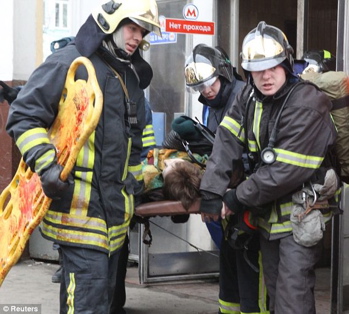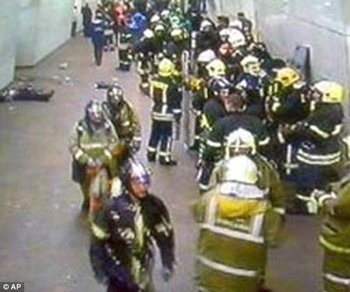 The chaos suicide bombers cause on Monday mornings.
March 29. The scene according to AFP was horrendous and extremely unsettling. A one two planned terrorist attack striking during Monday morning rush hour in downtown Moscow. Very much the formula we have seen in recent years, from Madrid, London and of course New York City.

AFP:
MOSCOW (AFP) – Around 40 people were killed on Monday when two explosions ripped through Moscow's metro system in the early morning rush hour, emergency services said.
Russia prosecutors said they had opened a criminal investigation into possible "terrorism" after the twin blasts.
The first explosion took place on a train while it was in the Lubyanka station in central Moscow, the spokeswoman for the Russian emergencies ministry Irina Andrianova told the ITAR-TASS news agency.
"14 people died in the wagon of the train and 11 on the platform," she said. At least 10 people were wounded.
The carnage, the confusion, the pandemonium and then suddenly the next orchestrated bomb blast designed to forever knock you senseless…
Minutes later, a second explosion went off at the Park Kulturi metro station, also in central Moscow, Russian news agencies reported.
The initial death toll from the second blast was put at 12, although the first reports spoke of 15 dead.
Try explaining the world to yourself now. Try seeing through the rubble and those hurtling at you with missing limbs.
A horrid sign of the times no doubt and a protracted effort by a marginalized sector. No matter, this is the new war and unfortunately we are all once again reminded how frail life is and how hostile this world really is…Welcome to a new world this Monday morning.
Passengers, many of them in tears, streamed out of the station, one man exclaiming over and over "This is how we live!"
Update as of 7.45 am US  Eastern Standard time 46 people have been confirmed dead…