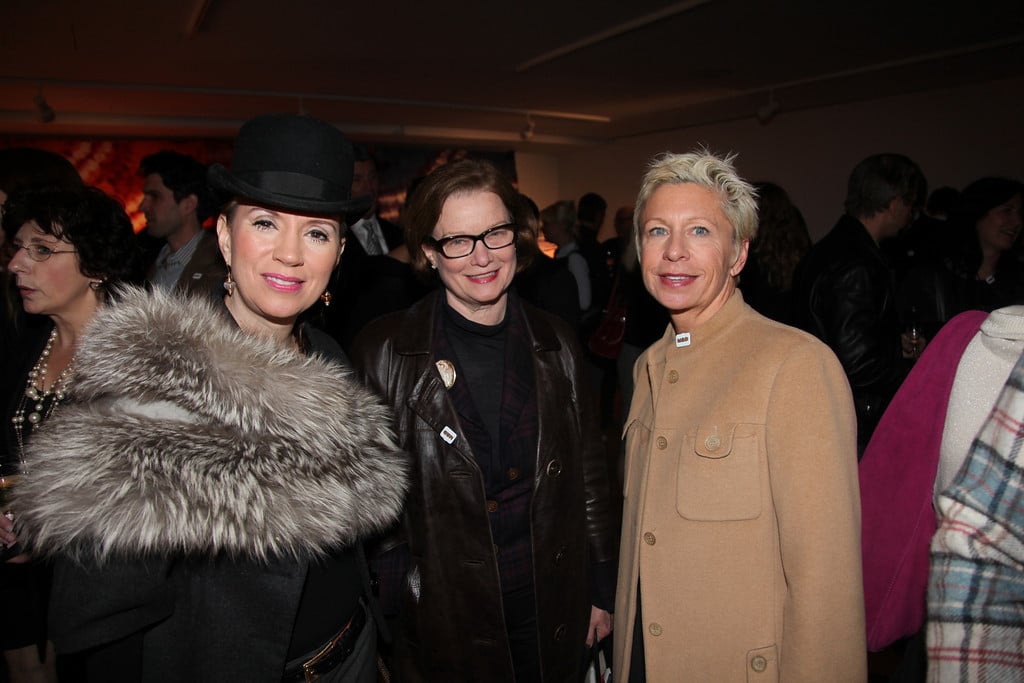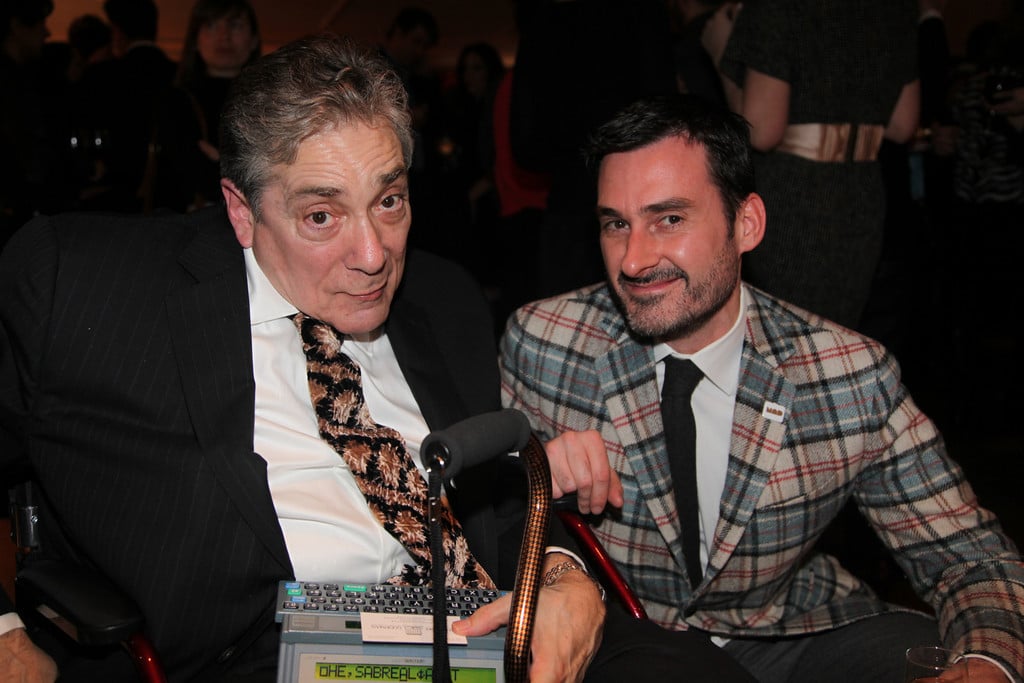 Guests poured through the glass doors of the Museum of Arts and Design which co-hosted the 40th Anniversary of Maya Romanoff with Architectural Digest Magazine. Elevators adorned with Half Plaid, a tie-dye wallcovering from Maya Romanoff's Anniversary Collection, re-imagined by designer Amy Lau, carried guests to the 7th floor, where more tie-dye greeted them from every angle.
The 7th floor installation showcased Maya Romanoff's innovative tie-dye designs throughout the decades: leather cloaks once sold at Bergdorf Goodman circa 1969, the Chicago Sun Times Building in 1988 draped with large scale flags in pattern Bess' Sunrise, a 2003 mural of Audrey Hepburn encrusted with Beadazzled beads, and a roaring fireplace adorned with Half Plaid wallpaper.
Cocktail glasses clinked amidth the tie dye backdrop in honor of Maya Romanoff who created the company in 1969, and who was in attendance alongside his wife and company President Joyce Romanoff. Architect David Rockwell flew into NY from L.A. having just finished designing the stage for Sunday's Oscars show. He engaged the audience in a formal speech that praised his dear friend and collaborator Maya.
Giulio Capua, Vice President and Publisher of Architectural Digest, came to honor Maya, as did Cindy Allen, Editor-in-Chief of Interior Design Magazine. Designer Jamie Drake showed his support alongside friend Marjorie Tevin, sister to Mayor Bloomberg and Commissioner of the New York City Commission for the United Nations. Bergdorf Goodman's Mallory Andrews, Nicholas Manville, and Susan Homan joined the festivities. Yesterday was also a momentous occasion as a Maya Romanoff display went up in the storefront window of Bergdorf Goodman, a compliment to Maya Romanoff's debut retail collection at the prestigious department store.
Lights dimmed as the event came to a close, and a private after party was hosted at nearby Jean Georges. The menu was created personally by the restauranteur himself.