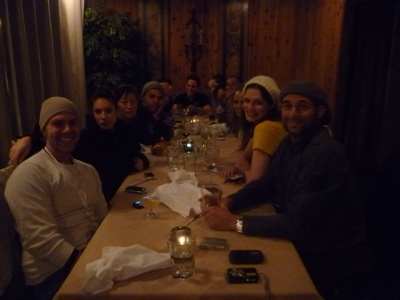 The parties: The Sundance Channel had a party, and it was everything an industry party should be: exclusive, relaxed, and prepped with finger food. Seriously, they had mini s'mores, who can beat that? It was low on celebrity, but high on indie high rollers. The producers of films like Coffee and Cigarettes and Enron: the Smartest Guys in the Room, Jason Kilot and Joanna Vicente, who is also head of the IFP were there along with many of the jury members. The conversation was stimulating, the music just the right volume and the gift bags full of useful things.
New York Film also had a party, mostly for New Yorkers and when I walked in I thought, "Oh my god. I've gone back to New York, someone help." The music was loud and weird, the jeans were tight and the food was wings and chips. The beer wasn't PBR, but the guests probably pretended it was. It was a lovely party, but part of Sundance's allure comes from Utah, so let's leave New York behind, shall we?
The Films: Winter's Bone is about a girl who lives in a tight knit community with strict rules that she is forced to break when her father puts her house at risk by not showing up for his court date. It's subtle, non-judgemental and not a single frame is wasted. It challenged and offset the audience, and there were palpable reactions throughout the film. I don't want to say anymore, because I just want everyone to go see it as soon as possible. Directed by Debra Granik, written by Debra Granik and Anne Rosellini. Starring: Jennifer Lawrence, John Hawkes and Lauren Sweetser.
Welcome to the Rileys stars James Gandolfini, Melissa Leo and Kristen Stewart. It was better than I expected, but I wasn't expecting much. It opens with a startling image of a burning car, which was beautiful and unexpected. Also unexpected was Kristen Stewart's performance; she took a character that could have been grating and turned it into a sympathetic, complex person. All the acting was wonderful, (Melissa Leo is just the best) and it far surprassed the writing and directing which was homogenous, misogynist and failed to live up to the story's potential. It doesn't use its ideal setting, either. Most of the film takes place in New Orleans, which is just as much of a mess as the characters. Both the city and these individuals have survived events that could have toppled them but still they stand, soldiering on, unsure of how to become whole again. The seedy side of New Orleans is horrifying, but worth seeing and this film just didn't delve into it. Directed by James Scott, written by Ken Hixon. Starring Melissa Leo, James Gandolfini and Kristen Stewart.