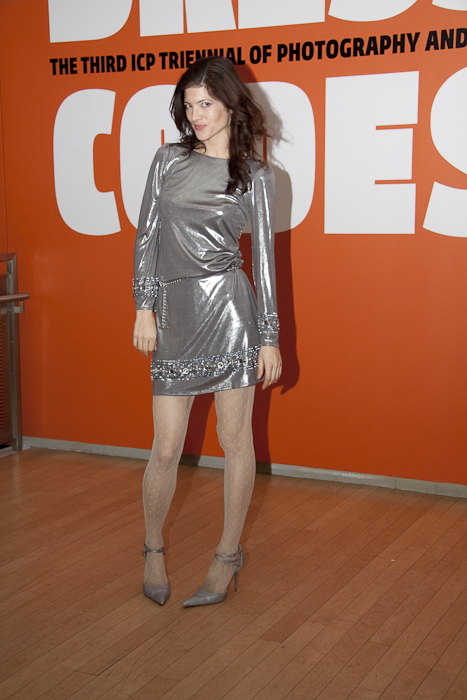 Entering the midtown Manhattan-based International Centre of Photography (ICP) on Thursday was an immediate sensory overload. Music pounded from all four corners of the museum, sweeps of shadows where slinky couples hide and chat clashed with the bright lights that illuminate certain spaces, highlighting the artwork. Not to mention the museum was packed to maximum capacity, with over 400 people present.
Click: the ICP's Triennial closing party for the exhibition "Dress Codes," is only the second dance party held at the museum, the first being "Snap Judgement," featuring contemporary African photography in 2006.
"Dress Codes" featured over 30 cutting edge artists, from Peru's Milagros de la Torre's simple garments (t-shirt, blouse, jacket) that reveal histories of violence and power to Germany's Thornsten Brinkmann's portraits of himself in outrageous costumes. Now, is it still considered self-portraits if Brinkmann withholds his face in every shot, hiding it under lampshades, pots and paper bags?
Art aficionados were everywhere, from the makeshift studio set-ups on the upper level to the installation and video art present downstairs. The crowd was as eclectic and diverse as the art hanging on the walls.
For the minted looking for a good bargain, this was the party to hit. A mere $250 VIP ticket got you a Pentax digital camera, a DVF scarf, Lancome products, Richard Avedon's "The Sixties", a year's ICP membership, and a portrait by Alice O'Malley. Add them all up, and it's about $1000 worth of swag bag products!
So it was only natural to find VIPs waiting in line at Alice O'Malley's make-shift studio, which occupies the same room as Splashlight. Thing to note: Splashlight, open for anyone – prince or pauper – is digital. Alice O'Malley, one of the artists featured at the Triennial, on the other hand, presented the VIPs with a Polaroid portrait.