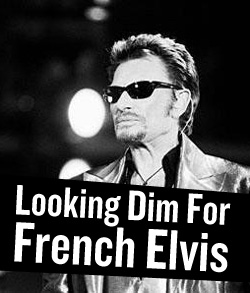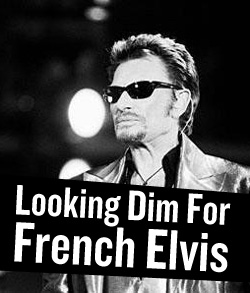 Trying to revive the things that once used to bring pride to a nation.
It's a testament to Mr Johhny Hallyday, otherwise known as the French Elvis that while fighting for his life in a hospital induced coma his country men have been holding micro second vigil for his graced resurrection and return to the public forum. For a country that in its own way is metaphorically feeling the death of its own once omni present super power and cache the budding survival of Mr Hallyday is but only a mirror of its own hackneyed bad health.
So concerned has France become with the plight of Mr Hallyday who during the 60's managed to take Elvis Presley and other English songs and turn them into French rock hits and by extension restore the self esteem of a culturally vanquished nation that even the heady Le Monde (who is typically averse to tabloid jingles) has expressed grave concern and benediction and typed the circumstances surrounding Mr Hallyday's ill health as a type of 'national coma.'
Of course what makes this all the more dramatically palpable is the assertion that initial surgery on Mr Hallyday was bungled –
Reports the NY Times;
Mr. Hallyday's producer has added a whiff of scandal to what was already a sad story. He publicly accused a French surgeon of bungling an earlier operation to repair a herniated disk, leading to widespread speculation that human error during a routine operation had put the singer's life in danger.
Like all things ironical – the surgeon in question also happens to be his own public star and like Mr Hallyday has a penchant for being involved with French beauties and stars.
The Los Angeles hospital, Cedars-Sinai Medical Center, would not respond to questions Tuesday night, but the singer's Web site said he was operated on on Nov. 26 for a herniated disk in France. He then traveled to Los Angeles and was hospitalized on Dec. 4 with a postoperative infection. The site says he was operated on on Dec. 9 and was put into a coma twice "in order to avoid suffering."
On the doctor who performed the original operation, Stéphane Delajoux, was attacked by two masked men, according to French news media reports.
Nicknamed the "surgeon to the stars" by newspapers here, Dr. Delajoux is a handsome former lover of the French actress Isabelle Adjani.
Whether or not Mr Hallyday survives he has already been anointed sainthood and we can only expect in the days and years to come a re examination of the illness that has metaphorically claimed France's once glorious presence. In any event at least France will have access to its beauties and stars, but let's hope that they all don't die at the same time.