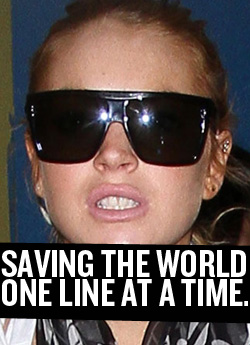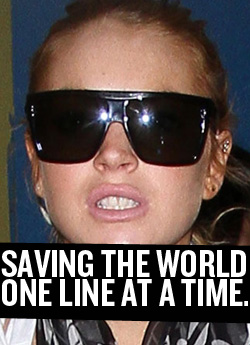 Taking kudos for things that aren't rightfully yours.
No sooner had Lindsay Lohan capricious media whore and social dilettante arrived in India she had the masses in a frenzy. A frenzy of course unlike the one that she would have preferred. Thinking that she was flying to east LA or New Jersey Lilo didn't realize that the locals would not particularly take to her the way uhm the locals in East LA and downtown Jersey take to her. That said Lilo quickly learned she is a person non grata in India and that unlike most Americans, people in India do not tolerate stupidity, vulgarity and self promotion above others.
The facts-
Flown in by the BBC to shoot a documentary on child trafficking (an oxymoron because Lilo is a child intent on 'fame trafficking' ) the bimbo incited audiences, activists, and authorities when she decided to take accreditation for a sweep that led to the arrests of child traffickers.
Of course Lilo was no where even near the scene when the shit all went down. Reports D listed who make always make us laugh so hard-
One of India's leading social activists, a man who goes by the singular name of
Bhuwan
, wants to fist LiLo in the teeth for taking credit for the raid. Bhuwan told
The Telegraph
that it took 2 months to plan the raid and he didn't appreciate LiLo claiming that she saved the world in the time it takes her nose to suck up a line. He added, "She was not even in the country when this raid happened. We'll be complaining to the BBC and talking to our lawyers … Would Lohan know where these workshops are?"
In any event we think Lilo has learned her lesson and realized as much as the idea of being a heroine in real life is attractive it's probably a safer option to play the role that we all prefer her to play – that of media crack whore. At least some things will always make sense in downtown NJ and East LA.