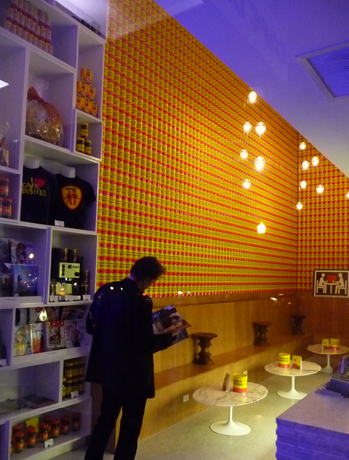 Having events for events sake is Arts Basel's insidious allure. Self promotion is rampant– whether it is ladies going out at night in as little clothing as possible advertising their availability, or galleries giving the proverbial middle finger to the recession and throwing lavish events that have nothing to do with their actual artwork. Last night however, I had the good fortune to attend a party that used the tool of self promotion in a different vein.
Hendershot Gallery, a young New York based gallery full of smart artists and even smarter business men, used their resources to curate an event that was more than a gallery owner debaucherously dancing on a table at a club for mentions on gossip sites.
The event was held at the Delano, and sponsored by Svedka Vodka. Drawing a younger, but intensely artistic crowd, the area around the pool was packed within 30 minutes of the doors opening. Kid Sister, slated as the headlining performance graced the stage with smart, artistic lyrics that appealed to the crowd of young intellectuals.
What impressed me most was– while there was a general air of networking, Hendershot Gallery was not only in attendance to exchange information, but used their immensely talented artist Alois Kronschlaeger to create an installation to set their area apart from the other lounging beds. Kronschlaeger who fabricates aluminum for light installations, created an amazing piece that diffused the light beautifully over all that laid on the bed.
Kronschlaeger and Hendershot's work was brilliantly applied to the event. And although, I loved watching Larry Gagosian dance on a table (seriously, it made my week), this was honestly a refreshing reprieve from the glutinous events that surround the celebrity of Art Basel.
Dara King and Nicky Romero.