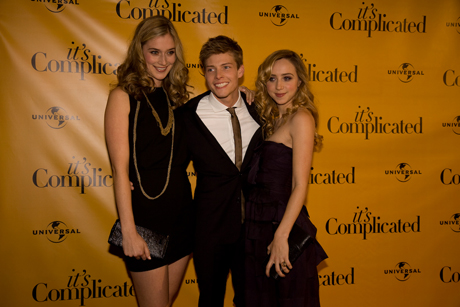 With the actual premiere being this past Wednesday, last night was a special downtown screening of Nancy Meyers' latest venture, "It's Complicated." The film was wonderfully comedic accompanied by stellar performances by Alec Baldwin and John Krasinski, as well as the obvious Mrs. Meryl Streep. Nancy Meyers kept her same light toned premise but synched it with new age jokes and a memorable and hilarious "high times" scene with Streep and Steve Martin, who played her love interest.
Zoe Kazan stopped to chat on the red carpet with Scallywag sharing that in meeting Paul Dano, her current boyfriend, a couple years back at their Broadway show "Things We Want" she had to choose Dano since Peter Dinklage was taken.  Kazan never ceases to present brave performances, perhaps being influenced by one of her favorite authors Vladimir Nabokov.
Unfortunately John Krasinski was escorting fiancé Emily Blunt at her screening of "Young Victoria" at the Regal Union Square and was not in attendance, as previously promised.