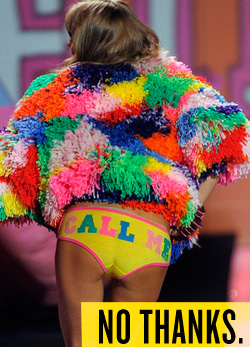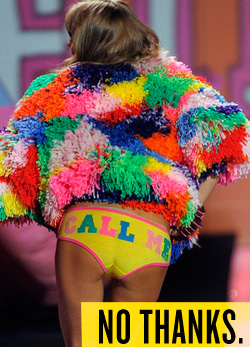 Blowing money as scantily clad ubermodels blow kisses. Keeping it simple in America.
Unfortunately for us, our request to cover last night's Victoria Secret's fashion collection at the Lexington armory fell upon deaf ears. We think we know now why. According to the Daily Beast (which made its beastly appearance), the whole front row was filled with fat white business men looking for any opportunity to toss around their overweight wallets. As has become customary, most fashion show front rows are reserved for sad sods like us who hail from media and inside fashion circles, but this year this years organizers had a better idea: find as many fat, white, rich, businessmen as possible and see what would happen.
Read for yourselves.
At the Victoria's Secret show, the only fashion world event at which the target demographic is straight men, they shimmy and shake as they make their way around the room, blowing kisses to rich businessmen who line the front rows, gaping in return.
There's Heidi Klum in a bra and panties. You'd never know she had a baby just weeks ago.
That sounds delectable. What other yummies were there served?
After that, it's off to what the program called "The Pink Planet," and the outfits are sort of '60s-hippie boudoir by way of the Mall of America. Then, the [Black Eyed] Peas come back, with their first lady, Fergie, decked out in a green bustier that's attached to a giant train. It's like a giant ball gown, except that with the front of her legs are exposed so you can see everything except what her underpants cover.
The view is good.
From there, there's a gospel choir, scores more half-naked women, and a whole lot of money being blown around onstage. The women look fantastic. It is what it is.
So there you have it. 'It is what it is.' Simple fat white rich men gawking at scantily clad ladies each with big fat dollar signs in their eyes. We're kind of glad we weren't there after all.
The Daily Beast
Live from Victoria's Secret