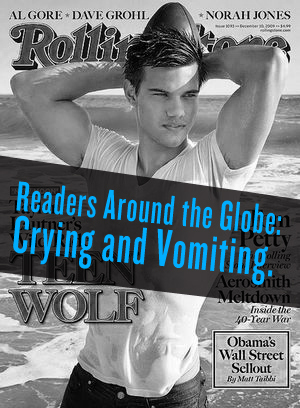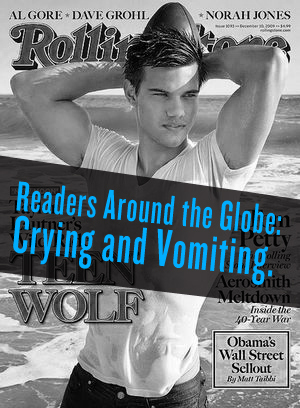 Pretty boys in wet t-shirts. Keeping it fresh in America.
In case you were in the mood to salivate and use a tight wad of hard copy laminated paper on the cusp of your insides, may we suggest this week's hot catch: Taylor Lautner.
Versatile and amenable to every fantasy, this throbbing stud stands in fluxom abandon in a wet t-shirt, knee deep in ocean surf. A make-believe, real life Adonis statue. The idea here is to cry and hiss as this boy makes you gurgle, and, yes, we mean gurgle.
Anyway he's this month's Rolling Stones cover edition of  too impossible hunk and spunk. All you have to do to have him is buy the magazine and rest it adjacent to your groin. You will find eternal love.
Selling magazines is more than just a formula.
LA Times
Taylor Lautner is buff and brooding for Rolling Stone.