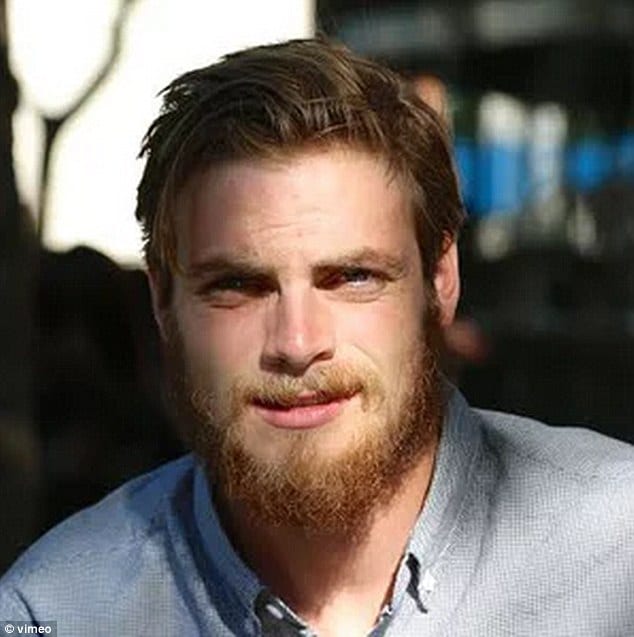 Making social media swoon and batter a bashful eyelid is the visage of GOP mystery audience attendant, Greg Caruso whose fine features didn't elude audiences glued in front of their tv sets during last night's GOP presidential debate on CNN.
Even before Donald Trump, billionaire real estate presidential hopeful had spent the better part of the 'debate' to down thrash his competitors (what did we all expect?), social media had already coined the trending hash tag, #HotDebateguy referencing the fair haired Adonis paying attention.
Since images of the man have gone viral, CNN has outed the identity of social media's fleeting love adrenalin as 24 year old Greg Caruso.
#HotDebateGuy looks more like a serial killer to me….

— Reneé Cole (@ReneeColeNYC) September 17, 2015
Time to just put the #HotDebateGuy on the ten dollar bill

— Kent Berame (@AshbyKent) September 17, 2015
#hotdebateguy won the day and will be our next president. #digitaltrendoftheyear — The Legendary Midge (@Midgen24) September 17, 2015
A report via buzzfeed tells of the 'darling' being a Los Angeles native and University of Southern California graduate who is a filmmaker and the son of wealthy real estate developer Rick Caruso.
Told the non plussed heart throb (who sadly for you doesn't have a facebook or twitter account- ironically) via CNN: 'It's pretty hilarious,'
'Social media can focus on some guy at the debate instead of the debate.'
Assert's the heart throb's Vimeo page, ' I have a true appreciation for the history of film, specifically The Golden Age of Cinema from 1925-1950 and film noir. I believe some of the most inspirational, meticulously stylized, artistically crafted way of story telling, flourished especially after World War II, in the 1940s. 'I have taken several courses and researched in detail such directors as Alfred Hitchcock, Billy Wilder, Frank Capra, Howard Hawks, and John Ford in hopes of continuing their mark on film and story telling.
'I have been fortunate enough to travel a lot in my life with my family and feel I have a global appreciation for art, architecture, culture, and film in general. 
'Filmmaking for me comes most naturally and creatively with the help of other mediums such as literature and painting. I plan to create relatable but unique, provocative but real, and stylized but refined films that positively inspire people in a meaningful way.'
MAKING THE AMERICAN MAN Indiegogo Trailer from Gregory Caruso on Vimeo. Along with having recently directed documentary, 'Making an American Man' (we assume…) Caruso is looking forward to his next project, but has yet to tell whether it will be an action or political thriller?
And for those who like their prospectives on the athletic side, Caruso was a standout quarterback and defensive back at the Brentwood School.
He was named to the All-Alpha League team in 2009 as a defensive back, according to Pasadena Prep Sports.
Of the 11 candidates on stage last night, Caruso likes Jeb Bush, according to CNN, but won't commit to supporting him or any of the other candidates just yet. 'I think out of everyone, (Bush) improved the most from the first debate,' he told CNN.
Yet it was when Caruso was asked about his romantic status, the film maker demurred, refusing to answer questions. Can anyone guess why?
Identity of mystery #HotDebateGuy at GOP debate revealed! Who is this hottie?! http://t.co/E1Zlsz9n4v pic.twitter.com/azRiLlknKt — Perez Hilton (@PerezHilton) September 17, 2015
Marry us, #HotDebateGuy ? ? http://t.co/xf0A4r8UmC pic.twitter.com/Uli7mAfqiI

— NewNowNext (@NewNowNext) September 17, 2015