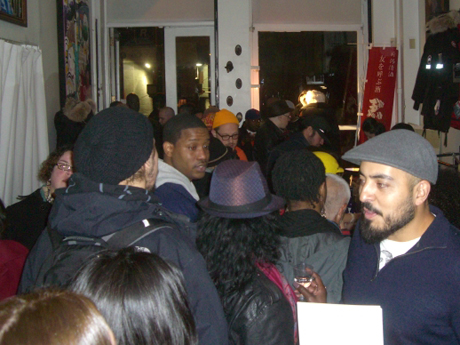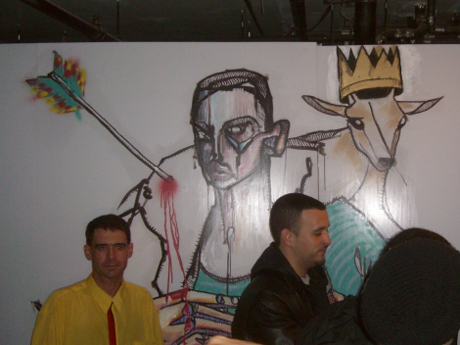 If you like crowded house parties, Blue in Green Soho was the place to be this past Friday night.  The men's clothing and lifestyle store transformed into an art exhibition in celebration of its four year anniversary, showcasing the work of three artists, Isaac Fortoul, Bobby Castenada and Heather Gargon, known collectively as Fortoul Presents. Flaunt Magazine and LUSSW Magazine were also present to commemorate the evening.
After pushing through the gaggle at the door, the crowd bottlenecked around a table of Kiminoi Shozu Japan sake, adjacent to a superior display of sushi from the renowned Chef Waka.  At first glance, it seemed like the only thing going on was the sushi bar and Top 40 Tunes being spun by Lord Finesse, as hordes of people stood around staring aimlessly.  It didn't help that the store merchandise took a vast amount of space with tables crowding the middle of the room, distracting from the framed art on the walls.  We were then told there was another gallery downstairs.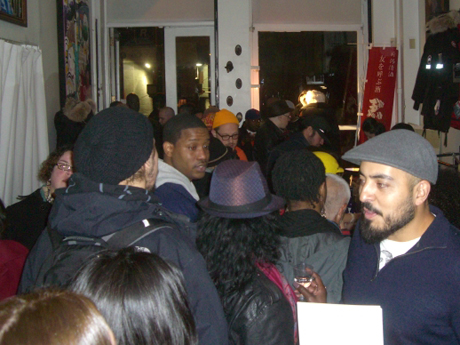 A flight of concrete stairs paved the way to display the paintings of urban underground artist, Isaac Fortoul. The setting was reminiscent of a frat house basement, with more Top 40 music and dim lighting.   The last time we heard Usher's "Yeah" was definitely a few years back.  Fortoul's work on large canvases seemed to mix religious undertones with animalistic qualities in bright colors, which would have been nice to see in a more illuminated setting.  A traditional bar was set up, which appeared to more so draw the interest of the fly partygoers than the art.
Back upstairs, we paused to take a photo on a deserted island, courtesy of Polite in Public mobile photo studios, before hitting the sushi bar on the way out.  The whole evening can only be described as eclectic.  The mishmash of all the styles of art, music and food lacked offered fun for all, nevermind the swarm of people. The large turnout seemed unanticipated, which can only signify good things for the folks at Blue in Green and Fortoul Presents: their star is rising.