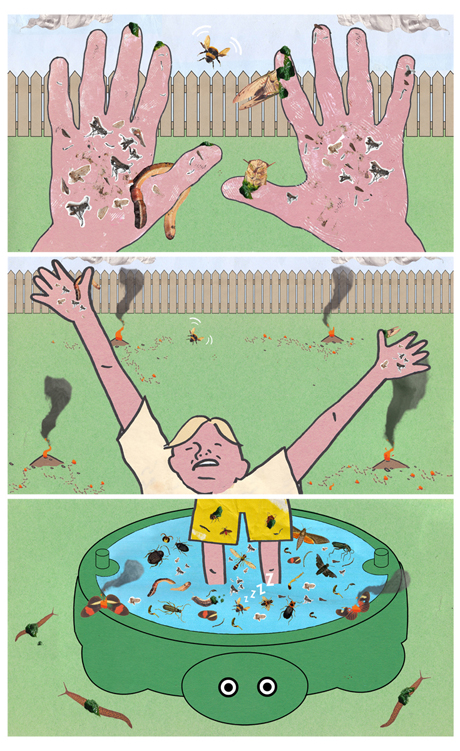 SCV: Where did you go to school? Who were your inspirations? 
CSJ: I went to MICA, the Maryland Institute College of Art in Baltimore. While studying, I was heavily influenced by the works of Warren Linn and Raoul Middleman, two teachers of mine. I have great admiration for these two men, as they are two of the best in their respective fields. Raoul Middleman paints like Chaïm Soutine with John Waters' narratives, and Warren Linn has an uncanny ability to breathe an incredible amount of life into his work. There's virtually no difference between his personal projects and his commercial work that appear the New York Times. He always gives each drawing everything he's got. Ultimately what I admire about both of these men is their uncompromising commitment to their work.  
SCV: It feels as if collage and illustration are like your characters – slight, undervalued but unique and interesting. Is that parallel intended?
CSJ: No it's not intended… Why I choose to work with collage in the majority of my works is because of the wider variety of solutions it allows me to come up with.  
SCV: So, you've worked for major corporations and for small, graffiti magazines. Which do you prefer? Why? 
CSJ: I'm young and unattached, so I am able to take on projects for little compensation and really produce good content for smaller upcoming companies. In my experience with the smaller companies, there's just more of a personal support system that lends itself to everyone's talents. Don't get me wrong; it's a lot of fun to get a job for a large company and perform under that pressure, and inevitably it's great for the résumé. But if I had to pick one, I'd prefer to work for the smaller firms because their content tends to deviate from the norm and you're allowed to really do anything and everything.
Hulu, a partnership between NBC, Fox and Walt Disney Co, was initially realized as a way to combat internet piracy and You Tube but since Wall st has been complaining about massive drops in network p and l's the networks have had to re think their plan and their devout obedience to Wall st and the capitalistic system which underwrites their existence.