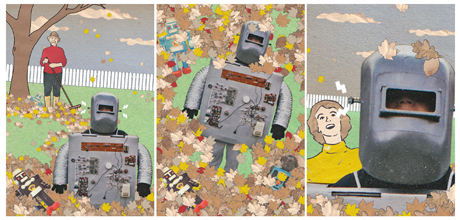 SCV: Will your next work focus on absolutely freaky, unusual characters? 
CJR: I'll most likely be scanning more bugs. 
SCV:  Do you find such idiosyncrasies in people amusing or problematic? 
CSJ: Things generally begin as interesting little muses and then quickly turn problematic. The process of solving that problem generally takes on a whole new life of its own. 
SCV: You must get a kick out of life. Are you constantly searching for the story in the people you meet?
CSJ: I'm always looking and listening for odd observational moments. I really enjoy the narratives people discuss in their conversations. So I just like to let my imagination run with what I think this person is about and what he/she is doing. That's where I get most of my material. 
SCV: You are part of the arts scene in Bushwick and the Hipster community of Brooklyn embraces you. Would you classify those individuals as having the same individuality as your other subjects? 
CSJ: Both wear bright colors.  
SCV: Have you ever encountered an individual who was unhappy with your depiction of them?
CSJ: In Bariloche, Argentina I was hit over the top of my head with a prosthetic leg. I did a portrait of this guy's wife and she didn't like it, so her husband got involved and it turned ugly. He threatened me, took off his leg, and started jabbing me with it. I left with a lump on my head and a fan club of bystanders by my side. I also got to keep the painting. There were a lot of good paintings to come out of Bariloche and that woman was one of them. 
SCV: Who has helped hone your craft? 
CSJ: The children's illustrators and writers of my childhood are my biggest and greatest influences. From Tomi Ungerer's The Moon Man and The Three Robbers, Drummer Huff by Barbara and Ed Emberley, to Edward Lear and Edward Gorey. They mystified me and left me with an undefinable sense of how things work in life.