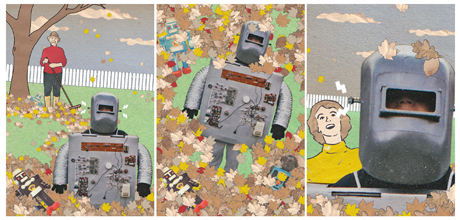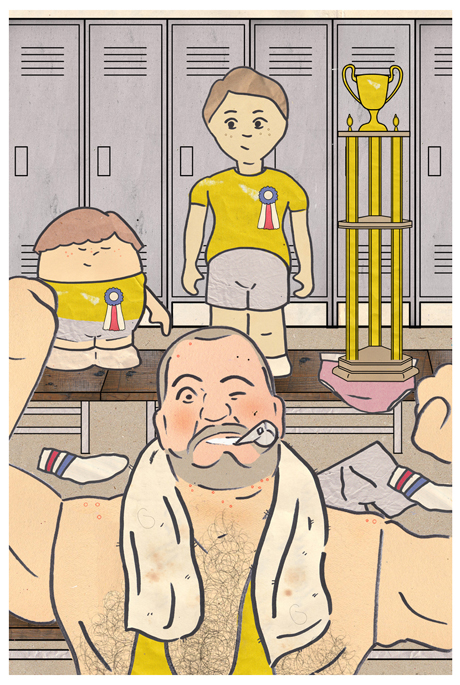 After seeing C.J. Reilly's Drawing Stories from South America show during the Bushwick Open Studios and Art Fair (CJ Reilly- From one tip of Bushwick to South America) I became enamored with the sensitivity and humanity of his work. It is not often that one can capture the essence of their subjects without devolving into caricature drawing. Reviewing C.J.'s portfolio of work, a large and diverse collection of styles and materials, it seemed that caricature drawing would not have been an inaccurate depiction of his many talents. 
C.J. concerns himself, at once, with the art and the ideas, people and emotions that populate his canvas. His is a collection of methodologies, a Rauschenberg career that runs from illustration to collage which create a world, partly real, partly magical, but always in tune with the actuality of the people that inhabit it.
SCV: From the show Drawing Stories in South America to Optimistic People in Ungodly Circumstances, your work combines illustration and prose. Are you a frustrated writer? A frustrated illustrator? Or just showing off? 
Charles James Reilly III:  I just like telling stories… And drawing has always been what I am good at.  Both mediums have their own uniqueness in suggesting and elaborating on an idea I'm trying to get across. I've always been drawn to the relationships between the visual and the written.  
SCV: In Drawing Stories, you found the beautiful and unique in seemingly ordinary people. Here, it's as if you've elaborated on those points that makes one different and unique. Is this part of a conscious shift?
CJR:  I find myself focusing on events and moments and how they relate to optimism and pessimism. I'll read or hear about a story that deals with men standing in front of their homes to block twisters or mayors ordering their townspeople to block rising tides, and I am instantly attracted to the quirkiness of these scenarios; its like there's this extraordinarily ordinary action we take on with when we let optimism try to govern our actions in the face of insurmountable odds.