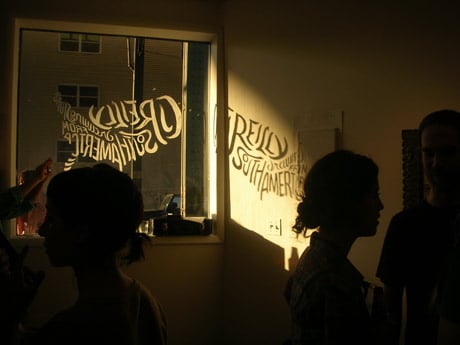 The Bushwick Open Studios and Art Festival is a bit of a Renaissance Fair where intrepid travelers can return to the Williamsburg of yore. Dressed in the costume of hipsters, they can participate in cheap-beer swilling contests, weave golden yarn out of their hair and enjoy traditional events, such as bisexual experimentation, modern dance and rent throwing competitions. 
Alongside these many festivities, is a growing and important arts community that is reclaiming abandoned bodegas, check cashing storefronts and burnt out Latino churches to turn unused spaces into galleries and studios.
As in the bygone days of Willy B, some of these shows are nothing more then an opportunity for friends to showcase the works of their graffiti artist paramours. In other cases, they are a good excuse to write off a portion of the gallery owners/renter's monthly fees. But, in the most sublime instance, they provide a real opportunity for an emerging artist to present himself to the arts world in a traditional and serious context deserving of his skill.
CJ Reilly's Drawing Stories from South America justifies the existence of these temporary spaces of art and creation. Bushwick, the DRWR Gallery where his pieces were shown and, as such, CJ's work, hang on the border of greater recognition. CJ is not an artist of Bushwick. Rather, he is an artist, who, while fitting within the greater community of hipsters and the minstrel jazz players, interpretive dancers and unwashed masses who made his show their home, is a part of the world's collective creative impulse.
Having traveled throughout South America, from the southernmost tip of Argentina to the capital of Peru, CJ survived by trading portraits for food, lodging and transportation. His subjects became friends, protectors and provocateurs. Their stories became inextricably intertwined with his own. This level of intimacy and understanding is evident in his illustrations. The humanity of his subjects is drawn with broad strokes and intensely actualized tiny details. The literal figures are abstracted within the color, shape and feeling that represent an inter-personal connection. 
If one was to close their eyes and try to picture a long, lost friend, they might find the specifics unbearable. A blue eye or the literal color of their stands of hair are not the memory of the person, they are their driver's license specifics. Instead, one might recall a slight moment in time when the other's full being was manifest in a single act. Memory is a collection of antidotes, stories untold, but shared between partners. CJ brings forth these very tales, writing, with the pen of a witty and self-aware diarist, the stories that represent his subjects as ably as his drawings render them in full.
From the slums of the most impoverished nations to the rich men of corrupt influence, the artist's subjects run the same distance and breadth as his travels. By drawing a curved, shaded and indirect line from and between each point, he creates a map of experience. While there may be nothing that takes the place of travel and complete submersion in the culture of a foreign land, a hand-drawn account is the closest comparison. Like a journal discovered at a tag sale, the depth of emotion and personal feeling compels further study even when the characters begin as distant and unknown. Within time, they reveal themselves and soon, the artist dissolves, his creations alone on the page.
The comparisons between the hovels of South America and the beer-soaked stoop of the DRWR gallery are easy to draw. Each breathe with a life and a community that is unknown to many but full and vibrant within its own right. Just as CJ became a part of his drawings, he is now, too a part of that arts community of Bushwick. Whether or not he continues to travel depends upon whether he meets a critic or a collector with the emotional availability that he himself possesses.