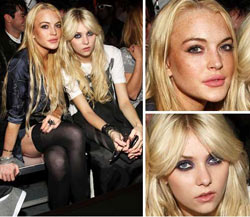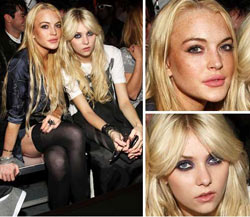 When listening to the queen of scandal may help your career along.
Photos of Lilo and Taylor Momsen surfaced today on TMZ with the 23 year old Lilo (how come we get the feeling as she's been around for 40 years already?) and 16 year old Taylor sitting next to each other at one of the shows at Bryant Park yesterday. Looking equally demure with their requisite poached expressions, 'raccoon' eyes, and straggly blonde hair the two seemed to be having a grand old time. That said we wondered to ourselves what advice can Lilo give the 16 year old as she makes her ascent to brat, slut and artistic director.
10/ If you're going to do blow in public to it preferably where other coke heads to it. It's never polite to be the only one doing it.
9/ Speaking of blow, always watch how much blow you do. I like to calm down by the third day of the run.
8/ Always be a bitch off stage and on stage. You don't want to give people the wrong impression.
7/ Go to as many industry parties as you can. This is how I get my casting leads. Of course the after parties are the best ones.
6/ Never take anything the media has to say about you to seriously, they're just jealous that they're not as hot as you and I.
5/ Speaking of media, use them as much as you can. Turn every story in your life, from addiction, a bad break up, being fired on the set, stolen jewelry whatever into how you are being victimized. It helps create public sympathy.
4/ If you can help it try be seeing as on many magazine covers, fashion shows as possible. Speaking of which all your friends and boyfriends should also be famous, otherwise what's the point?
3/Only associate with people who can help your career, that means if you must have friends that nobody has ever heard about please don't ever get caught in the same picture with the. Of course since we're both famous today works out really well for us.
2/ Try as hard as possible to get your own reality show. While you're at it I would campaign for my own perfume line, fashion line, garbage line. If you can't get your won fashion line up then the next best option is to become an artistic director. Some desperate fashion company is bound to jump.
1/ Most importantly make sure there's a camera pointed at you every minute of the day. Cause you know what they say- no news is bad news…