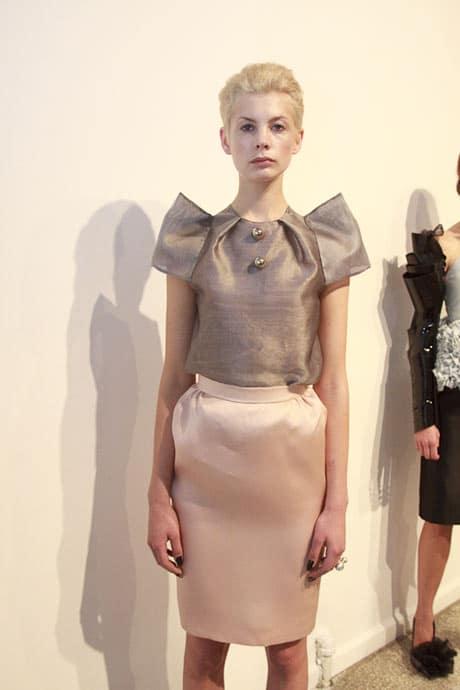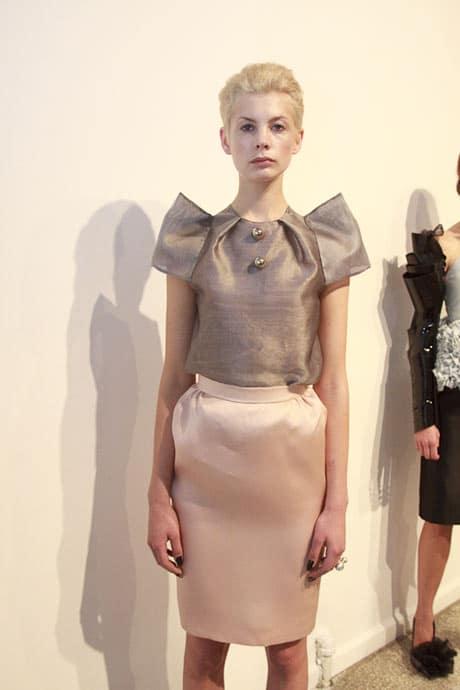 Entering the off-site space in the Garment District where Argentinean-born designer Victor de Souza was showing his spring collection was a pleasant relief. No thumping dynamic of a runway, no pressing rush of a Bryant Park crowd; instead there were ambient music and models standing stoically, silently, to showcase the clothes. And the atmosphere gelled flawlessly with de Souza's ethereal yet modern, almost space-age designs.
The beauty and whimsy that defined each of the pieces lay precisely in the combination of pastels and ruffles with structured shoulders and asymmetrical corsets. The clothes were entirely feminine (there was only one instance of a trouser) yet they exuded power via the strong architectural cuts. The Pierrot-inspired collection featured skirts adorned with large round buttons and neck ruffs placed at the hems, off-set by darker-hued deconstructed corsets embellished with metal and shatter-glass embroidery. Even the shoes spoke to this aesthetic: sharp metallic stiletto heels were feminized with oversized rosette ruffles.
While many of the pieces are extremely wearable, some of the more playful ensembles included a floor-length metallic gray one-shoulder gown with a major neck ruff and a skirt and midriff-baring corset combination featuring a shattered-glass neckline.
The models' hands deserve a special mention: while common for de Souza to have his models wear gloves, this time their hands with long sharp black nails were covered in wax. According to the designer, the sleek peeling wax represents an alien creature coming out of its alien skin striving to attain a human form.
The event was hosted by Victor's muse, Michelle Harper, a gentle fairy of a woman with a black pixie cut and a frail frame clad in his floor-sweeping spring 2009 gown. The models rotated positions periodically, their movements choreographed by a woman with a shock of ginger hair dressed in an all-black ensemble reminiscent of a dominatrix cat suit.
It seems that de Souza has a penchant for combining concepts alien to one another, yet somehow under his supervision the opposite ends of a spectrum blend organically. The concepts of the show and the collection may seem like contradictions, but Victor managed to put them together with praiseworthy finesse and grace.
Click here for Scallywag's Photo Gallery.