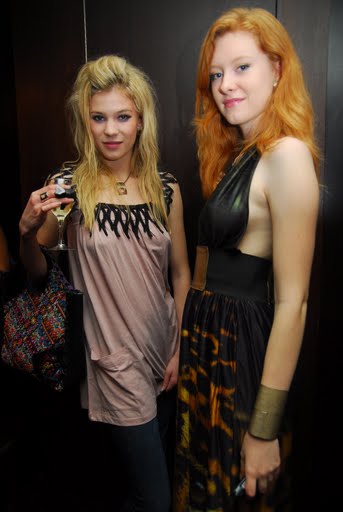 Late one recent Saturday night in the dimly lit INC LOUNGE at the TIME HOTEL, (Times Square NYC) an untapped resource for fashion and music made new friends. Honoring Mercedes Benz Fashion week '09 with emerging and talented artists, musicians, designers, industry professionals, and socialites alike, made for a night of socializing with beautiful people easy. 
Set up as a way for new and upcoming designers to get their work out to the people. An impressive array of jewelry designers, handbag specialists and reality show models substantiated the future of fashion and music to one of my favorite places of great taste. Not too often do I get the chance to meet so many talented people under the radar like that, but the team at Jordana PR knows how to pick 'em.
I was reminded about the "Caipirinha" (Brazilian for awesome drink) hosted by Sagatiba Rum. I was able to catch the live sounds of FRONTLINE and VINE HOUSE before DJ HUNTER LAINE killed it for all the sexiest people you've never seen before or heard about. It was a night for the society of people who have ideas and put them into motion. Even though it was the first time for public exposure to that scale for some of the contributing designers, there wasn't a rookie in sight. and the intimacy of the radiantly swanky locale gave me hands on feel of some of fashion's new clothes. 
Go to Scallywag's Photo Gallery.