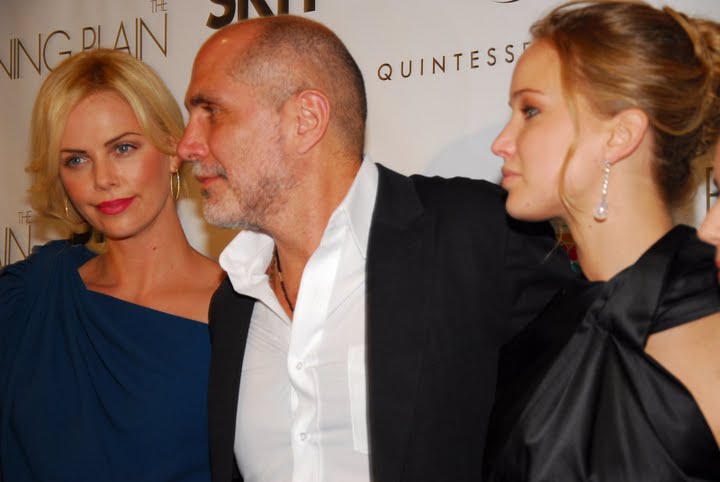 The red carpet, rolled out for the premiere of The Burning Plain at the newly renovated Sunshine Cinema, buzzed with anxious energy as the press and public waited for the celebrities to arrive.
The Burning Plain is the directorial debut of Oscar-nominated screenwriter Guillermo Arriaga (Babel, 21 Grams).   The film is a romantic mystery about a woman on the edge who takes an emotional journey back to the defining moment in her life, starring Oscar-winner Charlize Theron, Kim Basinger, Jennifer Lawrence and John Corbett.
The cameras flashed as the celebrities started to arrive.  Lauren Remington Platt, Kate Schelter, Stella Schnabel, Lynn Collins, Damien Fahey, Amy Finlayson and Vanessa Fitzgerald were some of the esteemed guests.  When asked what brought them to the premiere, the consensus was the admiration for Guillermo Arriaga's screenwriting work, the curiosity to see his talents as a director, and of course, the allure of Charlize Theron's acting.
As the towering beauty approaches, the energy in the room rises from excited to ecstatic.  Photographers and onlookers cry "Charlize, Charlize, over here" as cameras click away. 
S&V:  What was the hardest part about making this film?
CHARLIZE THERON: In general the hardest thing always is just to stay on the path of truth, I think that would be the hardest thing, that's always the case.
S&V:  This movie is about the defining moment in someone's life, what would you say is the defining moment in your life.
CT: I had a few, and I think you do in life.  I remember a night in a New York City basement on 21st street, I was crying my eyes out and eating four pints of ice cream because I couldn't dance anymore, when my mom suggested I try acting.  So because of some crazy moment at 2:00 a.m. with Hgan-daaz, I'm standing on a red carpet today. 
S&V:  You've accomplished so much, what do you expect and hope to accomplish next?
Charlize Theron: Just to survive. (She tilts her head back and laughs). I'm not a big planner, I try to live everyday like tomorrow might not come.  Not that I succeed at that everyday but I try to think like that and not too far ahead.
S&V:   Whats the most important lesson that you've learned from Stuart?
Charlize Theron: I've been with the guy with way too long, he's taught me so much. She laughs then says, He's taught me so much in nine years, but you know, that's more private stuff.
S&V:  What inspired you to work on this film?
Chalize Theron: I was a massive fan of Guillermo's writing.  Just being around him and being able to take this journey with him inspired me.  He's a fascinating guy, incredibly smart, really tapped into the human condition and has had a very interesting life. (pausing) He loves the theme of love, and don't we all just love that.
Following Charlize Theron was the man of the minute himself, director and screenwriter Guillermo Arriaga.  He walked into the room with a friendly smile, his wife on one arm and daughter on the other.
S&V:  What was it like to work with Charlize Theron?
Guillermo Arriaga:  She is the most humble and nicest person you can imagine.  She always brought a huge smile to the set.