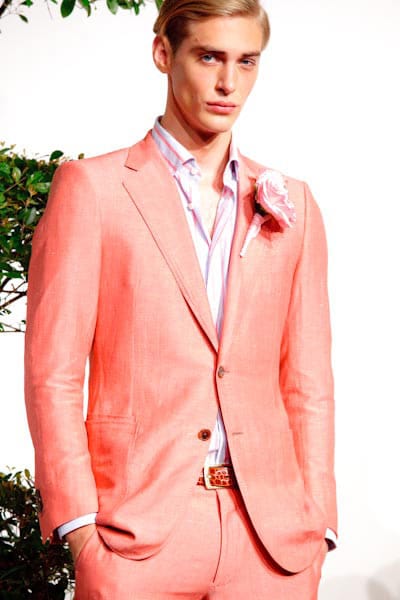 I love it when fashion is synonymous to models spending lots of attention to the idea of cool to the point that the inhibitions are exclusive. Walking in to a hangar sized white room which I'm sure in it's second life doubled as an art gallery. Being led into a cool anonymous building on the 500 block of 36th st. only evoked anticipation of the SPURR spring menswear collection 2010. 
The name was the only thing lit in the building, and for good reason. You could definitely shine with the new line of menswear from none other than Simon Spurr himself. I was inspired to say the least when I came across Jeremy (Wilhelmina) the way he was rocking the Salmon Wool Two Button Patch Pocket shirt (blue) with the Salmon striped Linen Shirt! Decadent wouldn't come close to that scene…You could definitely close all kinds of Deals with that outfit. 
Only for the confident, though uni-sexually fresh: The Grey birds eye 2button Peak Lapel Suit W binding orange button down shirt props to: #20 Alexander (NY Models) The grey coat with black lining is definitely on CEO status. Please understand what your getting into with a flashy guy that can pull off the looks SPURR has for 2010. He knows great men's Fashion to say the least. 
Veev Vodka had a light menu of drinks at the open bar, and I have to say gin and tonics are a sexy drink of few porn stars, but something about promotional bartenders makes them sound cool in the same sentence. The show was visually appealing and overall dapper. I like going to men's wear shows, the good ones are too few and it's exciting to see confidence in menswear. 
Click here to go to Scallywag's Photo Gallery.