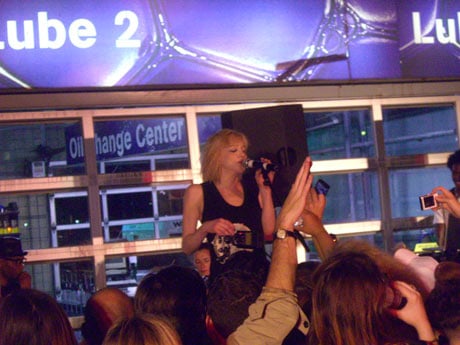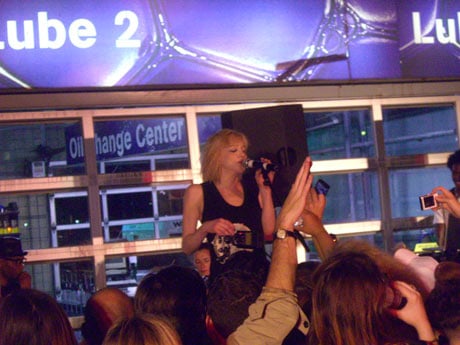 What do you get when you put Courtney Love on a make shift stage at a Mobile service station on a Saturday night during fashion week(including car wash)?  How about 1000+ people dancing, drinking, grooving and trying to figure out how they can sneak friends in to the party.  I don't know if people were more excited about stealing the candy bars and soda (which was all complimentary right off the shelves) or fascinated by Courtney's performance.  The only downside was that everyone kept lighting up, as in their cigarettes and joints.  Yes, AT THE GAS STATION. 
It could have been a very explosive night, but I will settle for a loud mosh pit of models, wannabe models, fashionistas and 9 to 5er's in 'disguise".   The most hysterical aspect was the "back stage" and VIP's on it (VIP is a very loose term these days it seems).  Let's rephrase this, there wasn't a back stage, it was more like a "side stage" behind speakers and beside the performers and elevated about 2 feet above the ground.  Why people were standing there hoping to get a bit of the crumbs left over from the crowd and paparazzi is beyond ridiculous.  All media and guest's eyes were on Courtney, front and center.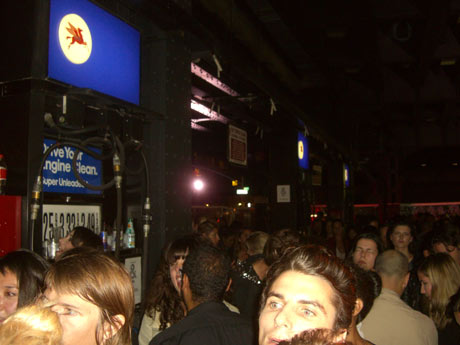 Alexander WHO?  Exactly, this quickly turned into a Pre VMA event rather than a fashion fête.  If it hadn't been for a giant MAC & MILK STUDIOS sign on the wall one would have forgotten fashion's involvement.  In fact, if it hadn't been for the gas pumps in the middle of the dance floor, one would have forgotten they were at a Mobile Station.  No complaints because people were just wanting to party, party and party like the recession had ended or sex was free(even in the wet drizzle).  POP Burger blessed everyone with cheeseburgers, French fries and onion rings around 1 AM to keep the Gas Station partiers "refueled".  People then had enough energy to smoke more cigarettes, dance, put more Snicker Bars and Reese's Peanut Butter cups in their pockets and purses.   
Super model Doutzen Kroes was in disguise (from being a super model) by wearing those trendy thick black glasses with what one assumes are fake lenses (hipsters seem to be sporting them over the last few months) and what looked like POP Burger fries in hand.  If it hadn't been for keen eyes and a flair for Victoria Secret super model bodies, I would have not noticed her (actually I was wondering where the POP Burger food was).   
At the end of the night (or beginning of the morning), everyone stomped away over cigarette butts, candy wrappings and oil slicks with ringing ears, trotting there way towards the Jane Hotel with two girls hand in hand, making a brief pit stop to pee between two cars…. wait, I think that was just me….Well I guess that's what you get for pseudo fashion parties. AT LEAST COURTNEY worked out, sort of…