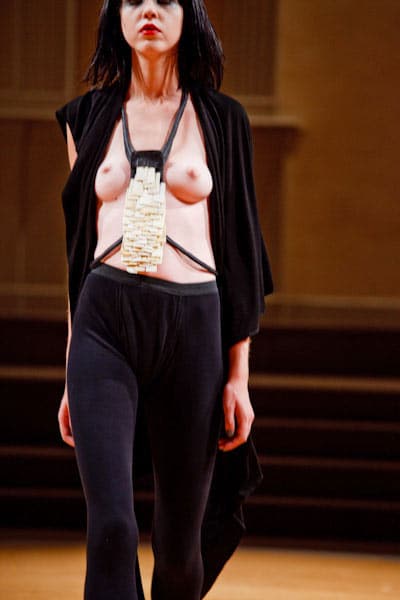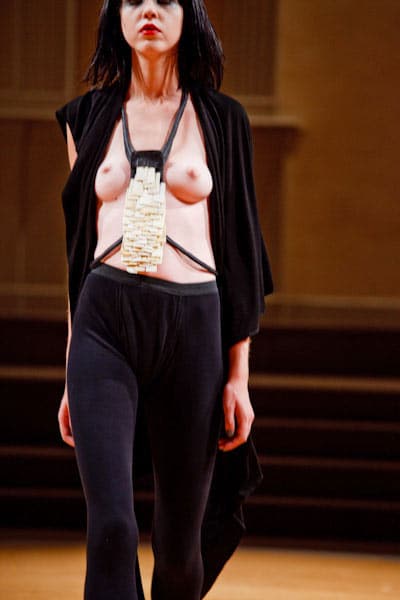 "He always had the opposite style of everyone else. Deliberately." 
So says mother of Odyn Vovk designer, Austin Sherbanenko. Plenty of friends and relatives were in attendance for the L.A. designer's show, but this was by no means a family affair. Before the show began, throngs of black-clad young people waited in line outside St. Mark's Church on east 10th. 
To outsiders it must have looked like we were waiting to genuflect at the church of Saint Sid Vicious – more than one set of tourists approached the line to see what we kids were waiting for (what are the tourists doing out at 9 on a Wednesday anyways?). The show started promptly as soon as the final stragglers made it inside and realized that they would not be getting seats. Suddenly, metal pumped through the speakers and the logic behind this particular venue choice became clear as soon as the first model stormed down the runway. The austere trappings of the deconsecrated house of worship – hardwood floors, high ceilings, pale walls with matching moldings – contrasted the bold, black deconstructed collection in a way that was as visually interesting as it was unexpected. The clothes were street wear – think Bowery style back in CBGB's heyday. Though there was nary a piece of flannel to be found, the collection still evoked a 90s grunge-meets-modern punk aesthetic. In other words, I bet Austin Sherbanenko used to be really into Pearl Jam in the 90s. Star Wars too- One caped model brought Darth Vader to mind. The biggest surprise of the night was the sudden bare-breasted emergence of a solitary female model. Or, as Sherbanenko's sister put it, "We weren't expecting boobies."
"It wasn't sexual or pornographic," said Sherbanenko himself after the show.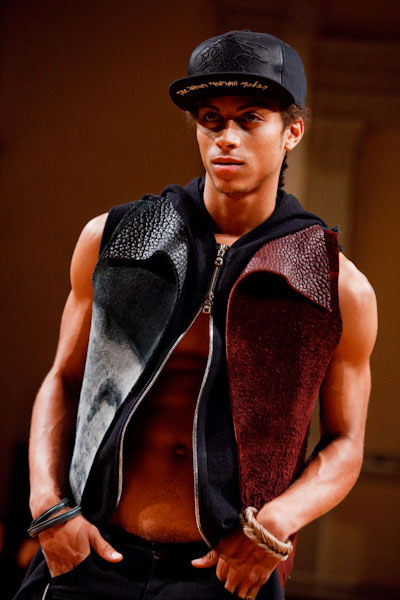 "The partially nude female model was the best way to show off that necklace, which was made of vintage ivory piano keys from the 1800s." Odyn Vovk has used women in past shows to highlight specific flourishes, but this was the first to incorporate nudity.
While other artists in New York City have faced legal problems for using public nudity in their work (such as Zach Hyman, notably), it should be mentioned for those unaware that NYC law dictates that woman's nipples are no more lascivious than men's- meaning public toplessness is legal in all five boroughs.
According to childhood friend Andy Chew, Sherbanenko lives up to his label's name – Odyn Vovk is Ukrainian for One Wolf. 
"Whatever he's doing, he won't follow anyone else's lead…. If you want to see him, you go to him."
Go here to see Scallywag's Photo Gallery.