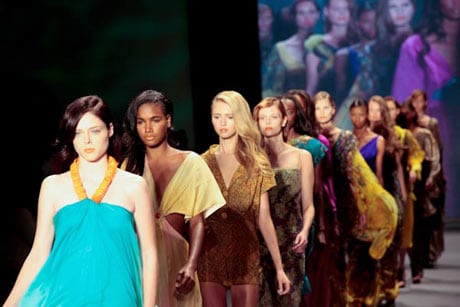 Coming to Arise's African collective was by far one of the most exhilarating highlights of the IMG MERCEDES FASHION WEEK so far. With the most colorful exotic collaborative  attendees were  left in awe and ardent stupor as the girls pounced hard down the planks, the tribal electro music guiding them and the catapulting of ivory chiffon, mahogany diamonds and the visage of a flock of gazelles come to claim the turf. From start to finish the collective took you from ethereal, rustic planes and the sultry swamps where you were left feeling if one more slit, cheek bone, thrusting thigh bone or diamond shaped cheetah print could glide off the planks you would gladly greet it…
With accent to seduction, heat and debonair flair the girls hit the planks so hard you were traumatized from the sheer beauty, the staccato of one brilliant design following one girl after the other. The camera pits if one dared glance were ballistically shooting away, trying to capture every ethereal amorphous gesture, swoon and thump as she stood there, glared at them before sauntering the other way.
Divided into 4 parts, 2 parts modern rendition of a pack of cheetahs moving across the plains and two parts swans and vibrant vixens taking in the sunset with alternating wide brimmed feather dresses and light fleeced gowns that dragged and sweeped for miles and strutted harder. 
The first song off the planks- 'Catwalk Music,' said it all as the high minded English Magazine – Arise and it's brilliant African collective brought a vividly imagined scene of wild animals on the go in the Saharan desert. By the time this ensemble production dared to slow down and the last vixen had finished her assault on the desert plains you were left with a sense of catharsis and overwhelming joy. As the four designers who made part of this collective came out the audience went absolutely bezerk. If only all shows could be as mesmerizing and as emotionally satisfying.
In short exceptional and for the woman who dares to imagine herself in a far exotic plain or state of mind this is the must collective to have.
Go here for more pictures on page 2.
Go here for Scallywag's Photo Gallery.